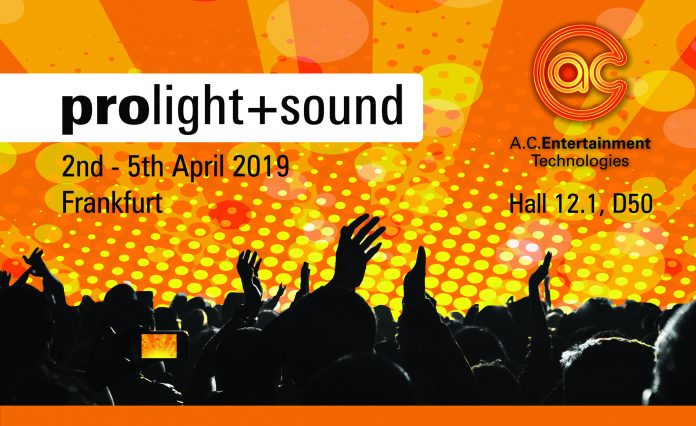 A.C. Entertainment Technologies Ltd. (AC-ET) will have staff at Prolight + Sound, Messe Frankfurt, 2- 5 April 2019, ready and willing to discuss all lighting, control, dimming and cabling needs.
The stand will have a large bar area for visitors to sit and enjoy a drink with the AC-ET staff whilst discussing any requirements they may have, as well as separate booths for more private meetings if needed.
On show will be a selective range of the latest entertainment technologies including from AC-ET's in-house cable manufacturing facility, Tourflex Cabling, which makes high-quality bespoke data, mains and multicore lighting cables. Fully tested to ensure that each assembly made in-house conforms to customers' requirements, the service also holds significant component stocks so that it can turn around large orders rapidly and effectively.
Tourflex Cabling has recently invested in brand new state of the art machinery to provide customers with a service that offers even more customisation options for their cabling and connectors, including overmoulding, engraving and different colours.
Increasingly used in Film and Broadcast, the Quasar Science Linear LED Fixture range's compact size, easy setup, superior quality colour and versatility makes it ideal for lighting actors or environments. The line-up includes the popular Q-LED X-Crossfade for tuneable white light, and the Q-LED Q-Rainbow, which combines tuneable white light with RGB full colour-changing capabilities. The Quasar Science Q-LION Battery LED Tube Range is incredibly versatile, with no need for mains power they are portable and can be placed anywhere.
The Stage CL lighting console features intuitive hands-on control with hue and saturation encoders per fixture, and a simple touch screen interface. RatPac's AKS system uses LumenRadio's award-winning CRMX wireless technology and allows users to control lighting fixtures directly from their mobile phone, tablet, PC or DMX lighting console.
In addition, for light sources which are not LumenRadio compatible, RatPac's Cintenna wireless receiver plugs directly into the back of the fixtures themselves and requires no extra rigging hardware. Reel EFX range includes the RE 5 Fan compact wind machine, with built-in programmable DMX and the DF-50 Diffusion Hazer, one of the safest, cleanest and most efficient hazers in the entertainment industry.