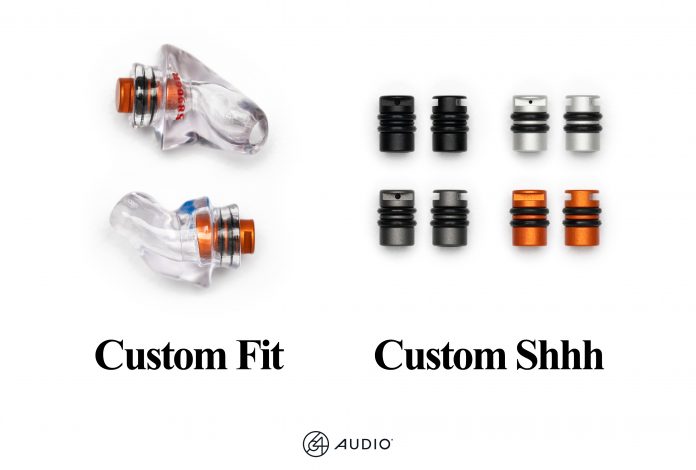 64 Audio promotes the importance of its Hearing Health Initiative by offering free custom earplugs and all four apex modules (mX; m15, m20, m26) with the purchase of a custom 64 Audio IEM* throughout the month of May. 
"As a musician, your ears are arguably your most important asset," explained Vitaliy Belonozhko, 64 Audio founder and Chief Sound Designer. "You spend hours rehearsing to perfect that riff, master that drum solo, or hit that high note. Your ears are your guide, your biggest fan, and your harshest critic. As such, ear protection and being mindful of your environment can help combat noise-induced hearing loss. There's no better time than the present to start protecting your hearing so you can enjoy and play music for years to come."
64 Audio's patented Air Pressure Exchange (apex) is a pneumatically interactive vent that releases air pressure in a sealed ear canal. This venting alleviates listener fatigue and opens the soundstage.
All of 64 Audio's current IEMs feature apex technology and comes in two variations, m15 and m20, depending on the model purchased. Unlike competitor venting solutions, apex preserves the bass frequencies and produces a more open soundstage, which helps the listener distinguish individual instruments. The apex module is also engineered with features to prevent vent-clogging and wind noise. Its compact and durable construction is virtually maintenance-free, designed for the most demanding users.
64 Audio's High Fidelity earplugs are a great way to protect your hearing in loud environments. Constructed using the same patented 3D-Fit technology that goes into our world-class In-Ear Monitors, custom fitting earplugs are made to the exact shape of your ear. Naturally they are more comfortable than generic earplugs, making them easier to wear longer. Made with hypoallergenic, hard acrylic, each earplug is built for longevity and durability. Their low-profile design makes them subtle enough to wear out and about.
To get your free custom earplugs with your IEM purchase, enter the promo code EARPLUGS2022 in your cart. The earplugs and apex modules will automatically be added to the cart. 
*excluding A2e/A3e/A3t/A4s; cannot be combined with other offers