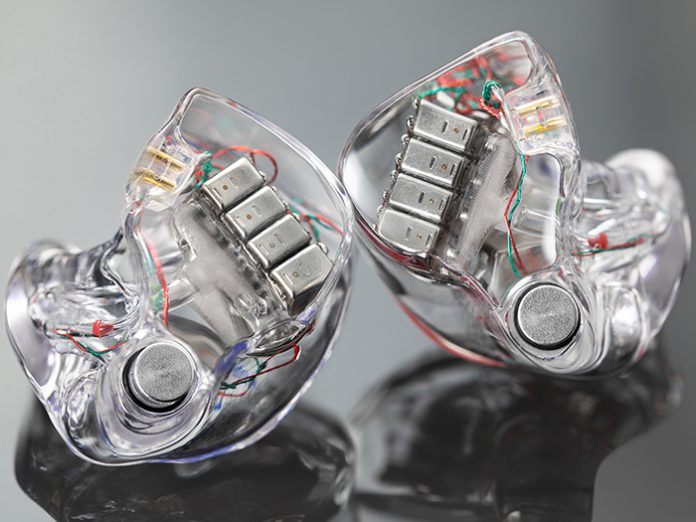 64 Audio, the leader in custom and universal fit in-ear monitors, has announced it will launch the flagship A18s custom in-ear monitor during the 2020 NAMM Show, held in Anaheim, Calif. January 16-19 at the Anaheim Convention Center, booth #11230. With an MSRP of $2,999.00, the A18s is built off of 64 Audio's existing 18-driver A18t platform, but is now designed for the most demanding stage and studio environments. Customers will be able to preorder during and after the NAMM show, with product available to ship in the coming weeks.
"We're thrilled to finally unveil our latest flagship custom in-ear monitor at NAMM," said Vitaliy Belonozhko, founder and Chief Technical Officer. "I'm particularly proud of this project because it's the result of some very close collaboration and testing with our musicians and engineers. These artists are truly pushing the boundaries of their equipment and we worked hard to develop a product that not only can hold its own in the most demanding applications, but actually empowers artists to push their own boundaries."
The A18t was the first custom in-ear monitor to incorporate an unprecedented 18 drivers per ear, giving it unmatched clarity and resolution ideal for audiophiles and engineers. It quickly then became a favorite for many famed musicians, as well. The new A18s builds off of this award-winning concept with a re-tuned sound signature, new drivers, and a new crossover that allows it to play at even higher volumes without distortion, making it ideal for the most demanding live stage environments.
The A18s also incorporates 64 Audio's LID (Linear Impedance Design), ensuring a consistent frequency response, regardless of the various sources it's plugged into, especially relevant for artists today that frequent both the studio and stage. The A18s can truly master both the refinement and detail required for studio mixing/mastering and the raw power and musicality needed for live performances.
From studio to stage to sophisticated home audio environments, 64 Audio has created the industry's most innovative universal and custom-built in-ear monitors available to date. Founded by Vitaliy Belonozhko in 2010, a sound engineer who has been working with musicians and production companies for nearly two decades, he discovered the advantages of IEMs over traditional floor "wedges" and recognized that a better solution to in-ear monitoring was needed.