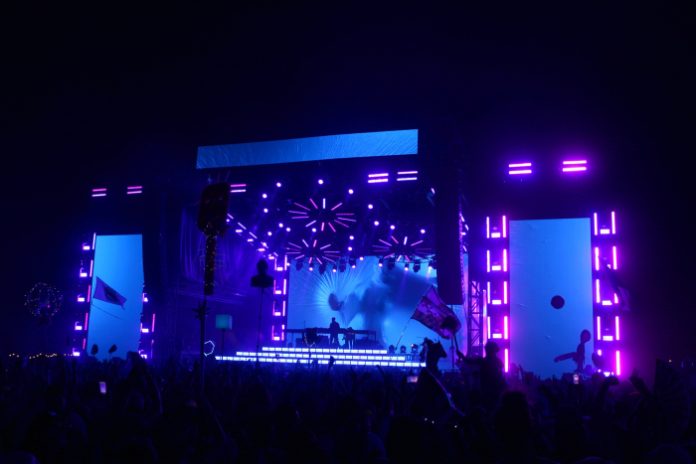 With stars like Zeds Dead, STS9, Louis The Child, Subronics, Liquid Stranger, Walker & Royce, and Alesso, The Other Stage at the Bonnaroo Music & Arts Festival served up plenty of EDM firepower. Only a high-intensity lighting rig could match the ferocity of this music – and that's precisely what Chris Lisle provided with help from 325 CHAUVET Professional fixtures, supplied by 4Wall Entertainment.
Lisle, the owner of Nashville-based CLLD, gave the visiting LDs for these artists all the punchy output they could ever ask for, but he didn't stop there.  The fixtures in his rig on The Other Stage were also very versatile, supporting a variety of looks, while also possessing the strength to stand up to large, multi-surface video walls and a video ribbon that ran across the roof of the stage.
Much of the lighting excitement as generated by 84 Color STRIKE M fixtures. The motorised multi-formatted fixtures were spread out across all of the rig's finger trusses and pylon structure located around the concert site. "Each visiting LD used the fixtures differently," Lisle said of the Color STRIKE M, "There was a lot of colour washing done with them, as well as strobing."
The truss fingers that were so critical in helping to define the design were outlined by 170 COLORado Solo Batten fixtures. These finger trusses were within the circle of trusses that made the Bonnaroo logo. The compact size of the COLORado fixtures made it relatively easy to arrange them in this configuration. Lisle noted that the RGBAW battens were used throughout the festival to create pattern effects and eye candy.
Rounding out the CHAUVET Professional contingent in the rig were 33 Rogue Outcast 2X Wash units, which were used in a variety of ways by different LDs, and 38 COLORdash H12 par units that washed the circular truss structures.
Like all such impressive achievements. The Other Stage was the result of a team effort. Lisle praised the work of the entire production crew including C3 Director of Production Brandon Sossamon, Lighting Director Nick Stabile, 4Wall Project Manager, Gabe Thruston and 4Wall Account Representative, Robby Kurt.
All those involved enjoyed working together to make the production design come to life. As for the visiting LDs, they liked the end result too. "Their feedback was pretty positive," said Lisle. "We gave them a lot of toys in the toybox to play with…. and the folks in the audience seemed to have fun as well."