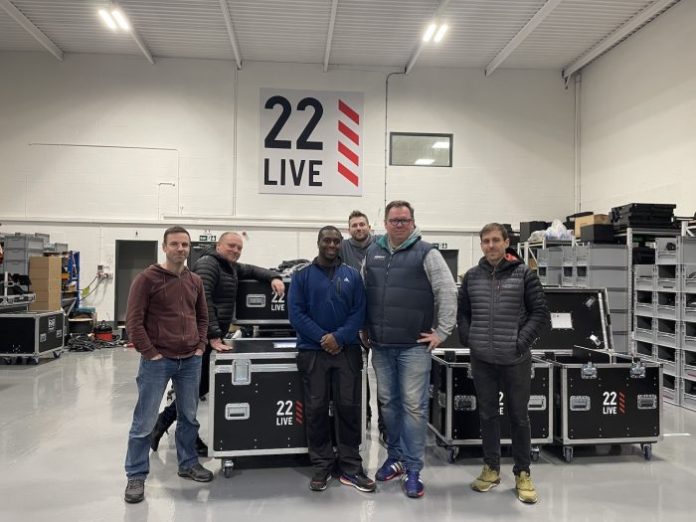 22live has welcomed two new recruits with Aaron Boothe and James Gebhard joining the Redditch-based pro audio outfit as Hire Consultant and Technical Supervisor, respectively.
Boothe began working with 22live in 2022 as a Hire Consultant bringing some of his projects to the team led by Paul Timmins, namely Central Cee, D-Block Europe, Beenie Man and Rema to date. Boothe wears many hats as a Production Manager, System Engineer and Sound Engineer. In his new role, Boothe will be responsible for bringing clients to 22live.
22live's Spencer Beard commented: "We are very pleased to welcome Aaron to the 22live team. Aaron is a great guy that will push us in front of new clients, and we really value him as both a great personality and engineer as well as also being one of the hardest workers I know! Having previously worked with Aaron I know he's a great fit to the team at 22live, sharing our vision as the next generation service provider."
Boothe added: "I've really enjoyed all of the work I've done with 22live so far and it's great to take up a formal position with the new company. 22live really excites me, and has reinvigorated my enthusiasm to seriously get back in the game post-pandemic. Everything 22live is doing has really impressed me, and I am 100% confident that my clients' present and future will be impressed also."
Gebhard has also taken on a full time role as Technical Supervisor at 22live, and joins the Redditch-based operational team. The new recruit shares awealth of on the road experience and a sound engineering background having been the FOH engineer for various high-profile acts over the years.
22live's Stefan Phillips commented on the appointment: "Having an experienced engineer like James on the team will be a real asset to the Hire team, the Operational team and to our clients, and brings an additional skill set to 22live. James will be involved in day to day operational projects, including control prep, and engineer support, and he will be continuing to look after some of his own clients as FOH engineer."
Gebhard stated: "I actually seemed to somehow miss the launch of 22live in January as I'm not big on social media, so it was a bit of a surprise a few weeks ago to discover the existence of a new independent start-up run by a group of people I know well and respect, and so I was very excited by the opportunity to get onboard. The ethos and nature of the new business ticks a lot of boxes for me and it's great to now be a part of it. I had been looking for a local full-time position so this just came at exactly the right time for me and I'm very pleased to take this position and look forward to growing my role alongside 22live as it too develops."
22live's Paul Timmins concluded: "It's great to have both James and Aaron onboard as we expand the 22live family. Both add more experience to the already experienced team, but bring new skills and angles to our organisation. This means more support for our customers and more opportunity for 22live. 2023 is already shaping up to be an exciting year."