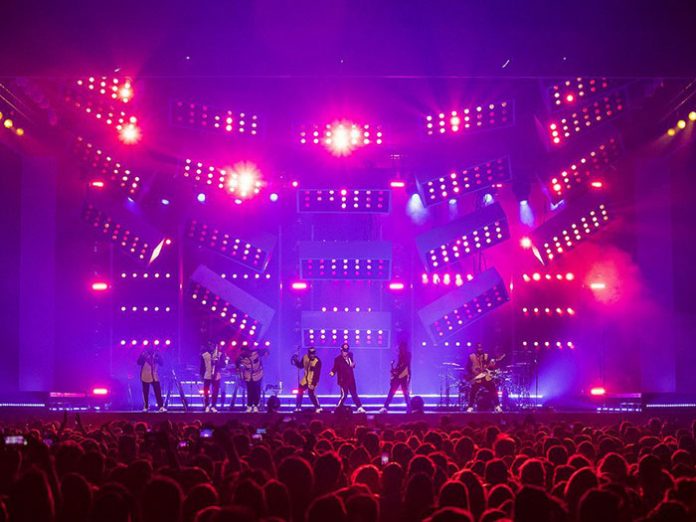 The North American phase of Bruno Mars' 24K Magic World Tour is now in full swing, with 63 dates from July to November. Opening in Las Vegas after 44 dates in Europe, the tour will continue to Latin America and Australia through next year. 214 Solaris Flares are key components of a spectacular show that celebrates the artist's musical roots.
"Flares are my go-to light," said Lighting Designer, Cory FitzGerald. "I like to use them in pixel mode so that we can take full advantage of the wash/pixel features as well as the powerful strobe. We have 68 mounted in the stage facing up, to under-light the transparent floor 'cells'; 70 are mounted vertically, end-to-end, as a single 'bar' downstage for our main audience effect lighting, with a further 76 hung throughout the rig and upstage from trusses, for stage strobing and more effects."
"Flares are incredibly versatile fixtures that continue to help me shape the musicality of the lighting in all my shows. The Flare's pixelation, colour mixing, low level effects, and its enormous punch make it a very powerful multi-tool." Fitzgerald added.
Lighting Director for the tour is Whitney Hoversten, LeRoy Bennett is Production Designer, and Production Manager is Joel Forman. The lighting package for the tour is provided by VER.
Over the past four years, Solaris Flares have become a staple for lighting designers worldwide. A new version, introduced in late 2016 – Flare Q+ – has the incredibly smooth dimming, vibrant colours, control options, all the features of its distinguished predecessor, plus the added benefits of Solaris' revolutionary Q+ Technology. This new proprietary LED driver technology almost eliminates fan noise, while increasing brightness by over 40 percent: Up to 52,000 lumens in the classic 96-LED rectangular format of the Flare Q+, and 58,000 lumens in the new Flare Q+ LR 108-LED linear unit.
In 'theatre mode' the Flare Q+ is effectively silent, yet still 8% brighter than the original Flare. All Flares now have a calibration function allowing precise matching of intensity and colour between Flares of any vintage, a particularly valuable feature in the rental market. Exclusive distributor for Solaris Flare products is TMB.