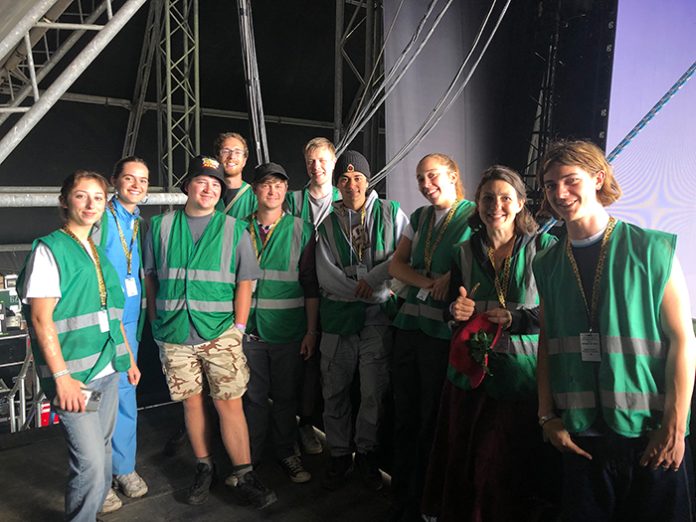 Glastonbury Festival 2022 will go down as the most iconic gathering in its 12-year history, with excited crew travelling from as far as Berlin to reunite, stand up and make their mark. Forming the biggest ever festival training team to date, Youth Production Network (YPN) crew had opportunities to join exclusive backstage tours, and supported eight production areas including Interstage, Pyramid, Other, Acoustic and Park Stages, Williams Green, Silver Hayes and the BBC Introducing Stage.
Seasoned YPN veterans provided strong team support for those emerging from the pandemic for their very first festival experience. The YPN 2022 Crew included students from DBs Sound Colleges, BIMM Institute, University of West London, London College of Music, City College Plymouth and Edinburgh Napier University. Emerging raw talent also joined from local communities across the South West including Frome, Bristol, Taunton, Totnes, Plymouth and Cornwall.
YPN Crew Chief, Jamal Maxey said: "It was a privilege to not only be at one of the greatest festivals on the planet, but also connecting with wise veterans and the new generation – reminiscing about who we have lost, the challenges that were overcome, and the reasons for optimism."
YPN first time crew, Louis Bloomberg added: "Joining the YPN crew gave me the opportunity to get my foot through the door and gain a better understanding of how the music industry works. Being my first time attending Glastonbury, the experience was better than I could have imagined, I came into the experience with a general aspiration to work in the live music industry but through my varied roles, I've found that I'd love to work in production."
Officially back onsite, global YPN crews from across the world are stepping up as the new generation of inspirational production leaders, and 2022 has marked the launch of an exciting new production era to come.