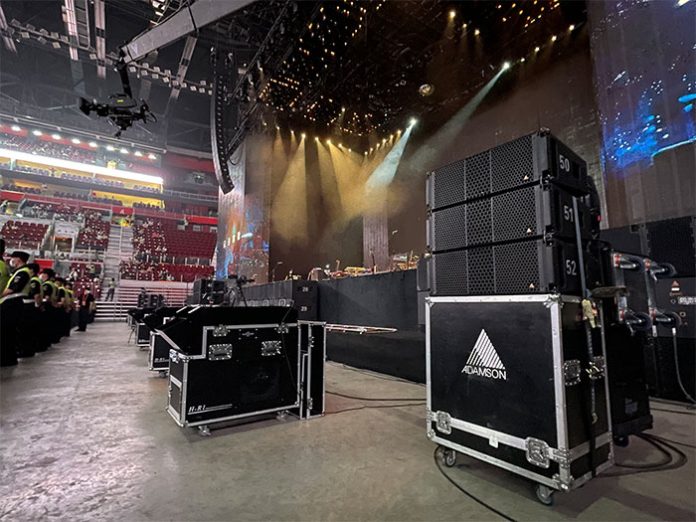 Chinese rock legend Xu Wei restarted his pandemic-interrupted Endless Light Tour with a large-scale Adamson PA design consisting of 172 speaker cabinets at Chongqing Huaxi Culture and Sports Center. 
Real Music Acoustics & Lighting Technology chose Adamson for all loudspeakers including stage monitors, main arrays, sidefills and frontfills.
The main left and right line arrays each consisted of eighteen E15 and three E12 for downfill. Main sidefills used arrays of fifteen E12. Front of house  system engineer Kaiji LIU noted, "For the frontfill, we use eighteen Adamson S10 . These 10" line array cabinets are divided into six groups to cover the front area."
There were twenty-four more S10 available to augment the already large main array for particularly large venues. The low end was filled in with thirty-six E219 subwoofers in three groups for left, middle and right. To keep the sonic signature in the Adamson family, M-Series stage monitors were used for the band and various performers that joined Xu Wei.
Adamson was an easy choice for the 172 loudspeakers required for the tour because of the unified system design with Blueprint AV software. Now a feature of Adamson's Array Intelligence software, Blueprint technology was used to design and simulate the system in each venue.
The whole sound system uses Adamson. Every speaker shares the same technology like the Kevlar cones for example. The result is we get similar performance including excellent transient response across every speaker we deploy," noted LIU.