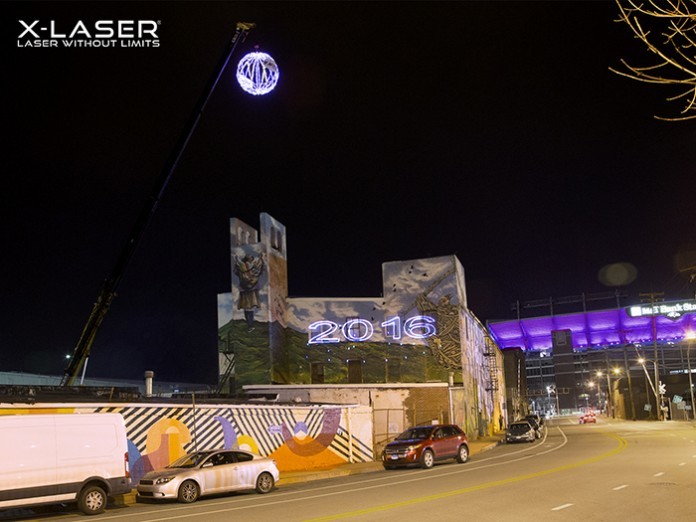 X-Laser projectors displayed huge signage visible across Baltimore to ring in 2016. The animated clock on the big building counted down as 2015 came to an end. A large crowd gathered in the streets to watch the glistening ball drop to welcome the new year. This was not Times Square, though – this was Baltimore. At GAME Sports & Spirits in the heart of the city between the Baltimore Ravens' M&T Bank Stadium and Horseshoe Casino, X-Laser projectors generated vivid laser effects to help create the atmosphere for Baltimore's first New Year's Eve ball drop.
X-Laser supplied the laser projectors and custom content to create a 20 by 40 foot outdoor digital laser sign visible throughout the city. "Lasers are uniquely suited for long-distance, high-contrast projections and can render very large, high-visibility content quite easily," said Dan Goldsmith, President of X-Laser.
"The organisers of Baltimore's first ball drop were able to achieve their vision at a cost 75 percent lower than if they had gone with video boards. The cost made the client very happy, and we are proud that our lasers were part of this unique event."
The goal was to project laser images visible all the way from Interstates 95 and 395, with each highway more than a mile away from the venue. X-Laser achieved this goal by using one Skywriter HPX unit and one six-watt Defiant unit. X-Laser used the six-watt Defiant to create big, bold text effects, while the Skywriter HPX created complementary texture and fill effects.
The projection setup included current time and midnight countdown clocks, various thematic content, advertisements for the venue and the event, and a colourful laser fireworks show in sync with the fireworks shot over Baltimore's iconic Inner Harbor once the clock struck midnight. The laser designs easily projected from more than 200ft away and required no attachments to the building, very little equipment and a simple overall setup.
The event, attended by hundreds, was sponsored by Z104.3, Baltimore's pop music station. Similar to Times Square but in unique Baltimore fashion, crowds blocked the roads and revellers cheered as the clock counted down. Flanked by X-Laser's projections, the glowing ball descended from 100ft above to welcome 2016.