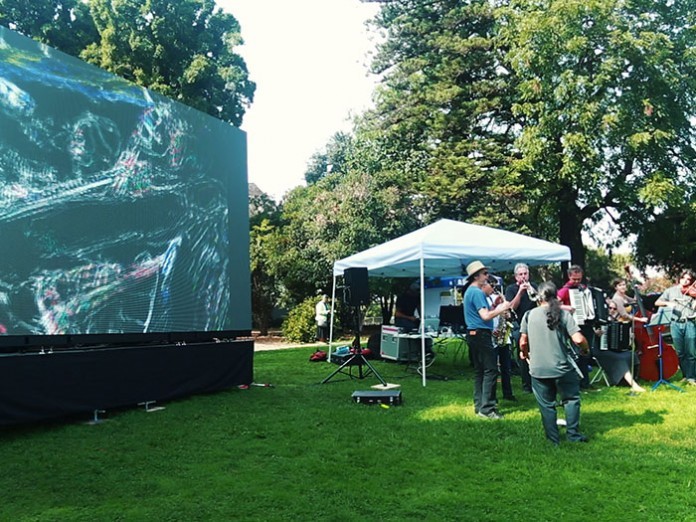 San Francisco-based WorldStage Lab supported FIGMENT Oakland, a free public arts festival, with an 18ft wide Unilumin LED wall and creative content for the outdoor big-screen display. WorldStage Lab is an extension of the core business of WorldStage and focuses on emerging media server and interactive technologies for live events and happenings.
FIGMENT is a family-friendly participatory arts festival held in multiple cities, which draws tens of thousands of visitors each year. The second annual FIGMENT Oakland held at Mosswood Park, featured sculptures, finger painting, art cars, a mural-format colouring book and a host of other fun activities.
The arts festival marked one of the first uses of WorldStage Lab's new Unilumin 6.67mm daylight-viewable LED wall. It served as an interactive canvas presenting video works from an array of artists, including WorldStage Lab Director of Technology, Josh Silverman, who project managed the installation.
He noted: "Video art is tricky at FIGMENT because the events take place outside during the day, and video artists like projectors. This year we decided to try our new Unilumin LED wall, which is extremely bright and designed for outside use.
"We set it up in a field in the park in the sunlight, and it was plenty bright and extremely visible."
The Unilumin system is a bezel-free LED videowall, which supports multiple signal inputs and is environmentally friendly with low power consumption. "The ease with which it went up was astounding," he added. "We had one Unilumin expert from WorldStage overseeing six of us who had never used this particular product before."
Installing the videowall was just one part of WorldStage Lab's contribution to FIGMENT. Supplying content for the wall was the second, and the project proved to be an extensive exercise in artist management.
"We reached out to two dozen interactive video artists to present their work on the wall," he explained. "We got responses from artists who implemented all kinds of interactivity: touchscreen interfaces for visitors to draw on, custom musical instruments that triggered animated graphics, a live dance performance that relied heavily on a video file delivered to us.
"Some artists participated through codedoodl.es, a site which offers a Google Chrome plug-in that serves up fun 'code doodles' every time a Chrome user opens a new tab," he added.
"We thought lots of these doodles would be perfect for the videowall, but they're designed to be used with a mouse and/or keyboard, which wouldn't fly at the venue. So we built a simple camera-based mechanism to drive the code doodles.
"It's an openFrameworks app that uses some simple flow detection to push a virtual mouse pointer around the screen."
WorldStage Lab scheduled content in 30-minute blocks, which were presented on the wall from 11am to 5pm.
"Technically, the artists didn't have to worry about custom sizing the output for the Unilumin LED wall," he said.
"Most brought their own computers and just plugged them into the system. It was a really simplified and streamlined process for them."
Silverman himself created a piece called 'Time Stretching' featuring live camera input of festival participants to which visual effects and time shifting were applied in sync with a music track.
"We used a Ximea USB high-speed camera and 25 minutes of original music I wrote," he explained. "The video went into a computer with some custom software and was played back in sync with audio from Ableton Live."
He concluded by saying that the Unilumin LED wall was a big hit at FIGMENT Oakland. "Artists were very excited about being able to participate in ways they couldn't previously. The system drew very little power, and everyone was quite pleased with the wall's brightness and colour responsiveness."