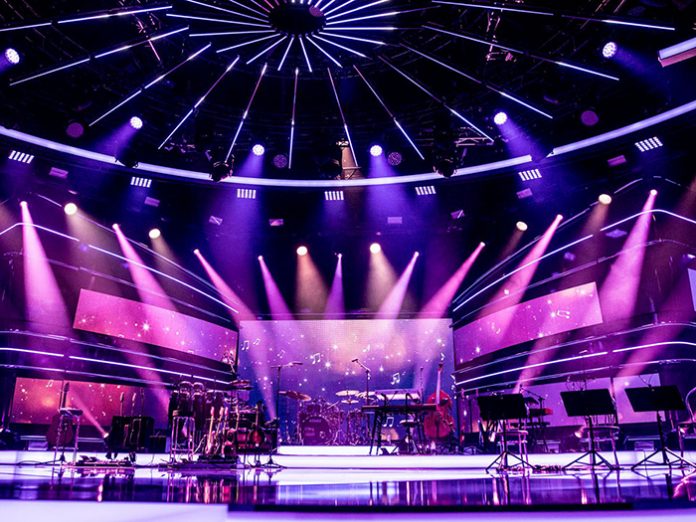 Since investing in more 300 GLP X4 atoms at the end of last year, Swiss company Winkler Multi Media Events, has found that this small lamp from Karlsbad has developed into a serious and versatile contender. The wide application possibilities range from small to large events as well as popular TV shows.
Back in February this year, Lighting Designer Matthias Kern from broadcast service provider tpc switzerland ag used multiples of the X4 atom in gigantic matrix displays at the Swiss ESC (European Song Contest) preliminary voting round. Further assignments followed, most recently the SRF show "Ich schänke dir Lied" ("I'll sing you a song") which is running for several weeks.
The X4 atoms were used in different arrangements for this emotion-laden Saturday night TV show — as a large matrix between the theatre audience and in a circular truss structure above the stage at the grand finale.
For Roni Huber, Head of Technical Design at Winkler, this versatility is one of the success factors in the cleverly designed detail: "For the X4 atom, there are a whole series of adapters, connectors and suspension constructions available. This makes the application possibilities incredibly flexible," he said.
To maximise the impact of these lights, direct contact with the manufacturer was also invaluable particularly in asking detailed questions. Huber continued: "Following discussions with Oliver Schwendke, we have been able to apply a few ideas for other accessories, and a short time later the first prototypes were realised."
Oliver Schwendke, Key Account Manager at GLP, added: "For us, the feedback from customers such as Winkler Multi Media Events, is extremely important. We always try to listen carefully, in order to understand the concrete requirements of the customer. Then we get together with our product developers and are always amazed at the thought-out solutions that are presented to us." In this instance, he said, the X4 atom Flex Connector emerged from Winkler's input. "A 'buckling element' enables two X4 atoms to be connected to each other at different angles of up to 90 degrees.
A further cooperation involving X4 atom took place this year at Frankfurt's prolight + sound in the PRG Festhalle. Here, Light Designer Jerry Appelt had the idea of blocking the X4 atom in clusters of six devices — thus within a few weeks the X4 atom Sixbar was created.
This is a case where six X4 atoms, can be tilted about the horizontal axis and in addition, each headlight can be rotated individually by up to 15 degrees. The result is a look that is modelled on the classic ACL set — but with six 30W RGBW LEDs and a zoom range of 3.5 – 35 degrees.
Huber summarized the success story of the small luminaire in this way: "Winkler recognised the potential of the X4 atom at an early stage, and expanded it further with GLP in terms of flexibility and possible applications. We are very excited about the creative ideas that are coming from the industry."