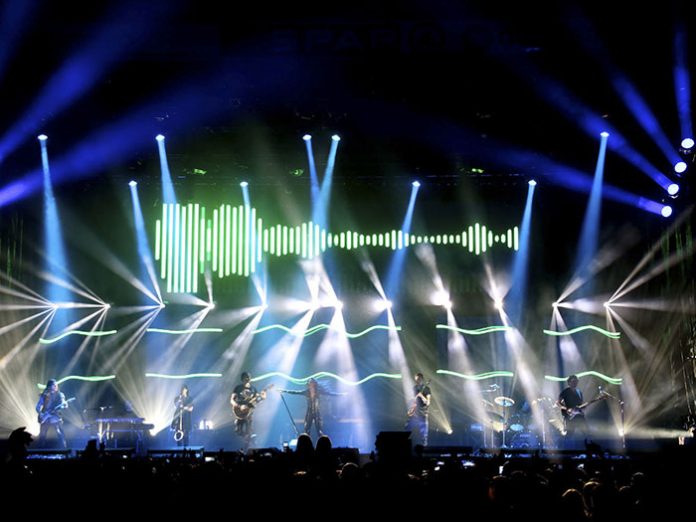 Belgium-based engineering and automation specialist WIcreations has designed and fabricated a bespoke rotating system to hold and rotate five large scenic objects for the current Caos tour by hugely popular Spanish singer Malú.
Niece of famous Flamenco composer and guitarist Paco de Lucia, Malú enjoyed her first hits as a teenager in the 1990s, which have been followed by a highly successful career in her home country. Her current tour lasts until November and will have played 69 dates in Spain by the time it concludes.
WIcreations' Geert Stockmans project managed the automation elements of the set after the company was contacted by production manager Manuel Bustamante, with whom they worked earlier on an Alejandro Fernandez tour, also supplying customised moving lighting pods.
Four of the five moving objects measure 1.9 metres wide by 3.80 high with the central object at 3.8 metres wide by 3.80 high, and all are constructed from a trussing frame clad with 20mm pitch LED panels on one side and a matrix arrangement of Robe Pointe moving lights on the reverse – nine fixtures each on the smaller ones and 18 on the large pod.
The free-standing floor bases are made from a selection of WIcreations' standard rental stock trussing combined with special adaptors, feet anchoring them to the floor and one of WIcreations' rotating elements mounted in the base.
Once the basic methodology was established, WIcreations designed and fabricated the trussing frames to which the LED panels and the moving lights are rigged. The rotators are controlled using Kinesys Vector automation software.
While the dialogue relating the project between WIcreations and Malú's production had been ongoing for some months, when they received the green light to go ahead, they had just 16 days to engineer and deliver the fully working system, so this became the biggest challenge. "It was a relatively straightforward process, but realising it in that time was a pressure" confirmed Stockmans.
A full test set-up was completed at WIcreations' extensive warehouse facility and workshop in Heist-op-den-Berg prior to delivering the system to production rehearsals in Madrid.
Integral to the package are touring dollies that the objects pack into neatly for stowage and transportation as well as efficient loading and unloading. As with all WIcreations turnkey projects, their engineers also provided on-site training for the show's crew to operate and maintain the system.