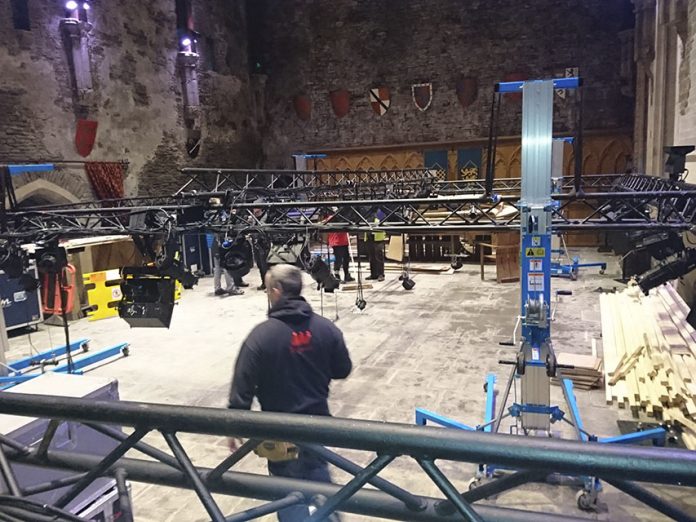 Theatr Genedlaethol Cymru recently staged a Welsh-language version of Macbeth at Caerphilly Castle. This brand new, site-specific production ran last month and was the company's first show to be performed in this historic ruin. Following its work on several other site-specific projects, White Light was asked to provide the lighting equipment on this production.
The lighting designer on Macbeth was Joe Fletcher and the Production and Lighting Assistant was Joshua Kroon. Who commented: "I worked closely alongside Fletcher to help create the systems and structure that would facilitate his design. This was an extremely ambitious production and key planning at every single stage was vital".
Macbeth was a promenade piece, which took place in three internal spaces throughout the castle as well as transitioning through one external space. This meant that each space required rigs that needed to be connected to one another, as they were each sharing various elements. Alongside this, the production was being broadcast live to 12 cinemas across Wales, meaning the lighting had to be suitable for recording.
Kroon commented: "During the fit-up, accessibility was a particular challenge. One of the dimmer rooms was actually located up three sets of spiral staircases! Similarly, this was a site-specific show, in Wales, during the winter. This meant we had to contend with the various outpours of rain and extremely low temperatures".
After several discussions with the WL team, Fletcher and Kroon drew up their ideal kit list for the production. Kroon stated: "We used the SGM P5s for a variety of internal and external washes. They offer great punch along with a decent colour range. The SGM G-Spot's were ideal as these were waterproof, meaning they could sit on the castle battlements as they provided lighting through the windows. We also used Martin MAC Auras for the wash along with Chauvet Colorado for down light".
To run such an extensive range of fixtures in such a unique location, Fletcher and Kroon drew on the Avolite Art2000 T4 due its reliability. The Luminex Ethernet-DMX Mk2 Arnet was used for distribution whereas the ETC Ion and ETCnomad was used for control.
The show has now finished its run at Caerphilly Castle where it received critical acclaim. Kroon commented: "This is the first time anything like that has been attempted in Wales and it was a fantastic project to be a part of. Staging Macbeth at Caerphilly Castle really added an extra dimension to the story; as did the lighting equipment, which helped illuminate the story. We are extremely grateful to WL for their superb service throughout as we really couldn't have done it without them".