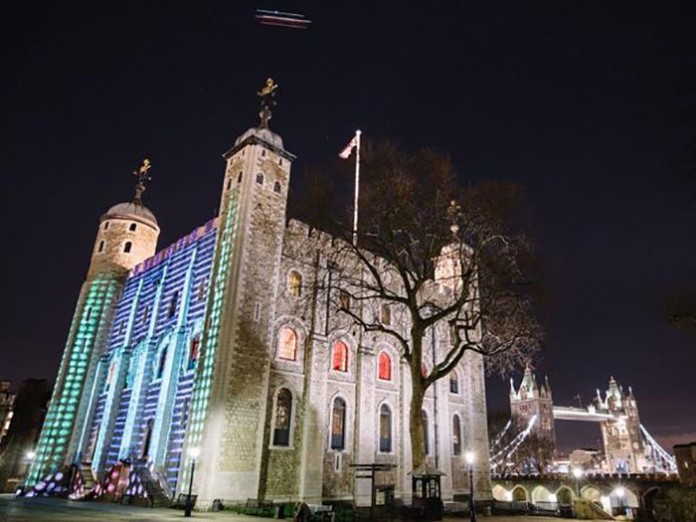 Last year saw White Light continue to expand its video services with the company investing in the very latest projection technology. In order to strengthen its existing hire inventory, the complete production solution specialist has now invested in a fleet of Christie Boxer 4K30 Projectors. Having launched to a string of awards, including the PIPA Award for Video/Projection Devices along with Projector of the Year at the AV Awards, the Boxer has already proven to be revolutionary in the world of video-mapping. Following this recent investment, these state-of-the-art projectors are now available for hire to WL customers.
The Christie Boxer 4K30 is a 30,000 lumen, high-resolution 3DLP projector designed for high-impact live events. It is one of the brightest projectors on the market and perfectly suited for large-scale video mapping which also requires the precision of 4K. It contains expert image manipulation with built-in warp and blend functionality. It also has a 1,500 hour illumination life, giving users complete confidence in terms of durability. The projectors are now available for rental and WL has four in stock, making it the first company to hold an entire fleet.
Andy Hook, WL's Technical Solutions Director, said: "We have a strong relationship with Christie and have already invested in their latest range of projectors, including the D-Series, H-Series and Q-Series. As such, our trust in the brand and their ability to deliver amazing products is one of the reasons we ordered the 4K30 before it was even released. This has resulted in us being one of the first companies in the UK to stock this revolutionary product."
Among its many features, the Boxer's single-phase power reduces set-up costs and complexity whilst still delivering exceptional HD image quality using Christie's enhanced HD upscaling. It is also extremely compact and weighs a mere 68kgs.
Hook said: "We are really excited to be able to bring this incredible product to our clients. We appreciate that companies which hire equipment from us have wide-ranging requirements and often work in a variety of quite challenging environments. With the Boxer being so lightweight, low-powered and packed with useful yet easy-to-navigate features, we know it will always deliver the best projection whilst making the entire process as stress-free as possible."
The Boxer is the latest addition to WL's ever-growing projection stock. With the imminent expansion of the Boxer family along with the introduction of a new laser-phosphor range, WL is excited to continue investing in the very latest technology and strengthening its relationship with Christie.
Gavin Chatfield, UK & Nordics Market Development Manager at Christie, commented: "We are really proud of the Boxer 4K30 in terms of its size, features and the incredible projection it can achieve. The feedback has been phenomenal and it's great that the product has already received accolades for its performance. We are delighted that WL has invested so significantly and that the products will now be readily available to their entire breadth of clients."
The Boxer has already been used by WL and its trade customers on a number of high-profile events including the recent Historic Royal Palaces Showcase held at the Tower of London. As guests entered the Tower, WL projected a series of animated sequences, created by Graham Clarkin of GeeFX, onto the building's exterior which completely transformed this historic landmark.
Hook concluded: "With Christie, all of their equipment is reliable, compact and, most importantly, projects to an incredibly high standard. We want to ensure that all of our customers have the opportunity to work with the very latest in projection technology and will continue to invest in order to make this possible."