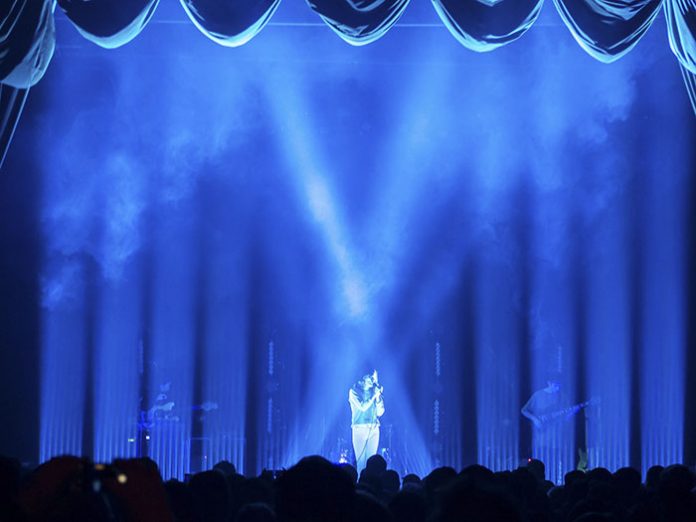 R&B-tinged indie band Wet played dates across North America this autumn using effects from Elation Professional colour-changing ACL 360 Bar battens as powerful visual accompaniment.
Lighting design for the tour was by Erich Meitzner and James Bailey, who used the ACL 360 Bars to stunning effect by creating dense, seemingly impenetrable walls of light that fully complemented the band's unique sound.
Their first outing with the band, Meitzner and Bailey, created a dynamic yet simple design that matches the often intense moods set by the music. They created a variety of backlighting effects by alternating 12 ACL 360 Bar fixtures with moving heads on upstage pipes while a further 12 ACL Bars lined the downstage edge to form a wall of light that separated the band from the audience. Another eight fixtures were used to surround lead vocalist Kelly Zutrau, enveloping her in a transparent box of light.
The high-output ACL 360 Bars, which have seen use this past summer and into the autumn a wide variety of applications, are versatile colour-changing LED battens with seven 15W RGBW LEDs and narrow-beam output. Their 360° continuous rotation allows them to create dynamic moving effects that are not possible with conventional LED fixtures. "We wanted to create walls of light and the big wall look is my favourite look of the show," stated Meitzner, who also serves as Lighting Director on the tour (he also serves as Lighting Director for the New Zealand band Broods). "We went with the ACL 360 Bars so we could create the wall look with pixel mapping."
Meitzner was thoroughly satisfied with the tour, calling it a "blast" and expressing his desire to continue to work with the band. Equipment for the tour was supplied by Michael Brammer of Special Event Services of Winston-Salem, North Carolina, with additional equipment for a show at Fonda Theatre in Hollywood supplied by Nicole Barnes at Felix Lighting. Pre-visualisation drawings for the design were completed by Dave Carr of Dave's World Designs. Meitzner and Bailey thank Kelly, Joe, Marty, Gabe, Michael, Nicole and Dave for their help and support.