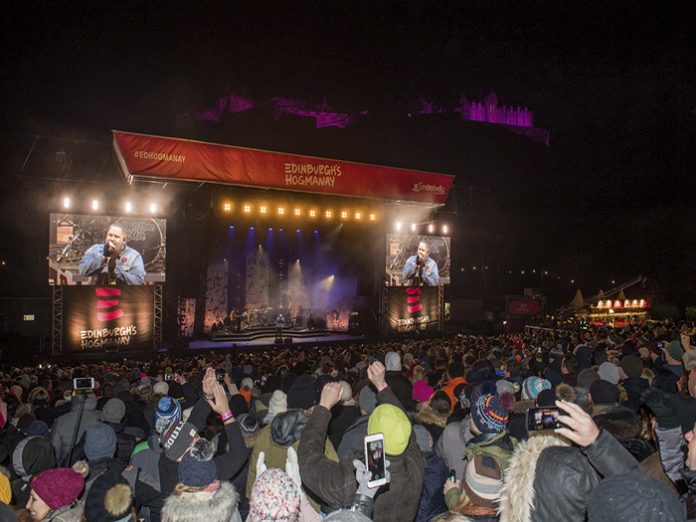 Following his triumphant year as the biggest UK breakout star of 2017, double Brit Award Rag 'n' Bone Man, AKA Rory Graham, headlined Edinburgh's Hogmanay Concert.
2017's Midnight Moment was, for the first time, choreographed to a specially commissioned soundscape created by Isle of Skye band Niteworks and award winning sound designer and film composer Dan Jones in collaboration with fireworks experts Titanium, followed by a moving rendition of Auld Lang Syne after the midnight fireworks by Rag 'n' Bone Man.
Event producers Underbelly engaged a creative team of sound, light, audio visual and production designers to produce celebrations on 31 December. The team was led by Martin Green, Head of Ceremonies for the London 2012 Olympic and Paralympic Games, and currently the CEO and Director of Hull UK City of Culture 2017.
Leading pro-audio provider The Warehouse Sound Services worked with Production Director for Underbelly, David Watson, to ensure that the concert went without a hitch and all artist requirements were catered for. Derek Blair from The Warehouse commented: "It was great to work with David and the rest of the Underbelly team in their first year as event producers for Edinburgh's Hogmanay. This year's event has been well received and it was a pleasure to work on it and a great end to the year for us."
Systems engineers Aidan Thomson and Graeme Brown together with sound crew Fergus Lockie and Kieran Blair rolled out a complete Adamson Systems Engineering E15/S10 loudspeaker system. Aidan Thomson from The Warehouse commented: "We provided a complete Adamson E15/S10 system for the event. We utilised left and right hangs of 12 E15 line array enclosures with 8 S10 as side hangs together with 16 E119 subs all powered with Lab Gruppen PLM20K44 amplifiers running Lake Processing to provide clean, crisp and even coverage throughout the audience areas. Adamson's proprietary design software Blueprint AV was used to design the system. A range of other equipment was also used during the performances including Avid, Digico, Midas and Yamaha digital mixing consoles, Shure Axient Digital radio mic systems, Shure and Sennheiser IEM Systems and AKG, Shure, DPA, Sennheiser, Neumann microphones."
"In addition to providing equipment and crew for Concert in the Gardens, The Warehouse undertook RF co-ordination for the whole of Edinburgh's Hogmanay on behalf of Underbelly," Thomson continued. "The BBC also broadcast some of Concert in the Gardens during their Hogmanay Live show on BBC1. The show which came from the Old Fruitmarket in Glasgow has been provided with sound equipment and crew from The Warehouse for the past 27 years."
The Warehouse Sound Services is the UK distributor for Adamson Systems Engineering. The company has invested heavily in Adamson equipment over the last year to help get these systems established in the rental and installation markets within the UK. Adamson's acclaimed loudspeakers have been deployed in the U.K. for recent shows by the likes of Bryan Adams and Shawn Mendes, plus major events like Rock the Stadium in Falkirk with Madness and Jess Glynne, and the Montrose Music Festival, headlined by The Beach Boys and Deacon Blue. Additionally, The Warehouse deployed over 100 Adamson loudspeakers at the Virgin Money Fireworks Concert, which closed out the Edinburgh International Festival with a performance by the Scottish Chamber Orchestra in 2017.