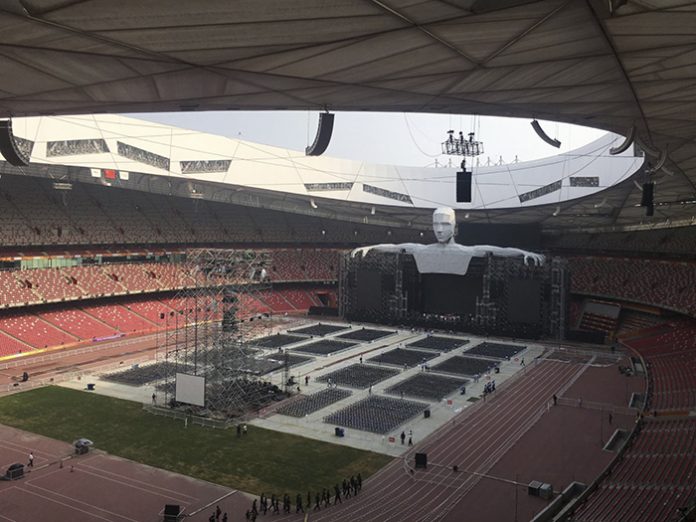 Chinese rock icon Wang Feng kicked off one of the country's most highly anticipated live music events in September 2017 with The Times tour. The major national tour supported his latest album 29, Guoling Lane.
Debuting at the Bird's Nest Stadium in Beijing, the tour saw the popular singer performing in 30 cities over the course of 2017 and 2018. The production requested a sound system without delays on the field to preserve sightlines and budget. Sound designer Shaogang Jin chose an L-Acoustics K system, supplied by rental company Lab Beijing, for its long throw and even coverage.
One of China's most renowned sound engineers, Shaogang Jin has designed sound and manned FOH for Wang Feng over many years both on tour and for the prominent reality TV show The Voice of China. He has also worked as master sound engineer of the Opening and Closing Ceremonies of the Beijing Olympics in 2008. In addition to the powerful throw of the L-Acoustics K system, he cited L‑Acoustics' rugged and waterproof design and ease of tuning via LA Network Manager as the main factors influencing his system choice for The Times tour.
The system design consists of a total of 44 K1, 96 K2 and 24 Kara, plus 24 K1-SB and 40 SB28 subs, with K1 and Kara used for the main L/R hangs, K2 for outfill and Kara for frontfill. Consistent bass coverage across diverse venues was accomplished with flown K1-SB and ground stacked SB28 subwoofers. The entire system was driven by 86 LA8 amplifier controllers.
Shaogang Jin used L‑Acoustics 3D acoustical modelling programme, Soundvision to help him design the system to get the coverage he wanted in each venue. "Soundvision is a very powerful and accurate design tool. It's really helpful and makes the tour much easier," he explained.
With such a complex tour, Shaogang Jin was grateful for the technical support provided by L‑Acoustics Application Engineer, Alvin Koh. "The support from L-Acoustics was excellent," he said. "We knew we could count on Alvin's extensive experience for advice in getting the best out of the system."
As the tour continued throughout 2018, Shaogang Jin knew that the system would be well-accepted. "L‑Acoustics produces the world's highest quality speakers. It's the best choice for touring. Sound engineers are very familiar with it and particularly appreciate the L-Acoustics signature sound. Everyone is very satisfied with the system."