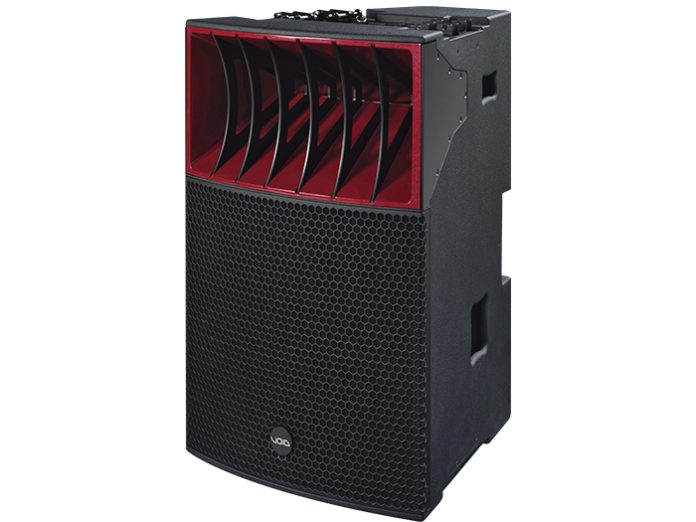 Void Acoustics is celebrating its 20th anniversary throughout 2023.
As part of this milestone, it will be adding six significant new products to it's extensive pro-audio catalogue and showcasing these, complete with an experience true to Void, at the ISE Show in Barcelona; including a stand (Stand 7E300) and demo room (8B5).
The brand new Arclite is a high-powered, arrayable point source loudspeaker specifically designed to meet the demands of the touring industry. It is designed for pairing with the Arcline 218 and Arcline 118 subwoofers and offers scalability with maximum output and coherence, thereby delivering a true point source alternative to the Arcline 8.
The Arclite is tailored for audio integrators and sound engineers and guarantees predictable behaviour even in the most demanding applications. Dispersion and sound pressure levels can be configured precisely to best serve any demands. Arclite's design also offers full summation up to 20kHz with no destructive interference, regardless of the number of enclosures incorporated in either a horizontal or vertical array.
The installation market is the focus for the new Air 15 – an IP rated reflex-loaded 15" fibreglass subwoofer, complementing mid-high enclosures from both the Air and Cyclone series. Its large-scale output allows fully formed systems to be achieved in any environment.
Air 15's non-resonant fibreglass enclosure contributes to its impressive SPL and low frequency extension capabilities. Key features include an IP-55 rating made possible by 'ingress proof vent technology' and UV-resilient paint, allowing Air 15 to perform in both internal and external spaces requiring comprehensive coverage.
Meanwhile a trio of new products are being launched to serve commercial and high-end residential projects.
The Cyclone 208 is a powerful, yet discreet double 8" subwoofer addition to the established IP-55 rated Cyclone series and is perfectly suited for residential and commercial environments. Described by the team as 'the visual gem', its compact nature allows installation in listening environments where floor space is premium and for those desiring the highest levels of fidelity.
This is complemented by the launch of the Venu 208i subwoofer – a cost effective ultra-compact, self-powered double 8" addition to the Venu V2 Series. The Venu 208i can power up to four mid-high enclosures, including Void Acoustics' signature Cyclone 4, Cyclone 55 and Indigo 6 loudspeakers. It also benefits from built-in DSP for loudspeaker control and advanced signal processing capabilities, accessible via the rear ethernet port. The Venu 208i is the perfect subwoofer for small venues such as cocktail bars, restaurants, and residential spaces; as well as being a great solution for medium sized venues that are looking for a system to provide background audio.
A brand new, stand-alone amplifier is being introduced called the Inca 500 – an ideal product for space-saving, energy-efficient integration into commercial and residential projects including hospitality and hotel applications. This is a half rack width, 1U format power amplifier which can drive both conventional low impedance loudspeakers and high impedance transformer coupled loudspeakers. The Inca 500 also features an inbuilt preset library and it can be driven from a smart phone or computer for ease of control.
Finally, Void Acoustics is launching a highly specified four-channel amplifier to join the revolutionary Bias Series – the Bias Q1.5. As with the entire Bias Series, the Bias Q1.5 embraces intelligent technology with a highly efficient micro-processor-controlled power supply. With an output power of 4 x 600 W, Bias Q1.5 has entered the amplifier range as a solution for projects which demand a power requirement between the Bias Q1 and the Bias Q2. It also features built-in Power Factor correction for flawless operation as well as Powersoft's patented Smart Rails Management technology. It is ultra-reliable and energy efficient, perfect for multiple background and foreground music applications including beach bars, hotels, fitness, restaurants, nightclubs, retail and marine.
Visitors to ISE will be invited to discover the pro-audio world's most stylish and powerful sound systems and preview the new products whilst taking part in an exclusive listening experience with the team. Reflecting the international appeal of ISE, Void will be presenting a demo in French at 15:30 on Wednesday 1st February, and one in Spanish on Thursday 2nd February at 14:30.
Void Acoustics' Founder, Creative Director and technical mastermind Rog Mogale is delighted to be attending the show this year. "We can't wait to celebrate our 20th Anniversary with our existing and trusted partners and customers, and ISE is the ideal opportunity to introduce our range to potential new customers. These exceptional new products complement our pre-existing ranges perfectly, and all reflect our passion for innovation and audio excellence. The whole team at Void Acoustics are excited to be showcasing them throughout the week."
In addition to the regular demonstrations on offer during each day, Rog will be hosting the final session in Void's Demo Room daily, when he will discuss several existing products with listeners; provide an in-depth analysis of Void's unique product philosophy and outline the concepts behind the launch products.
See Void Acoustics at ISE 2023, 31st January – 3rd February: Stand 7E300 PLUS Demo Room 8B5. To pre-book a product demonstration click here.