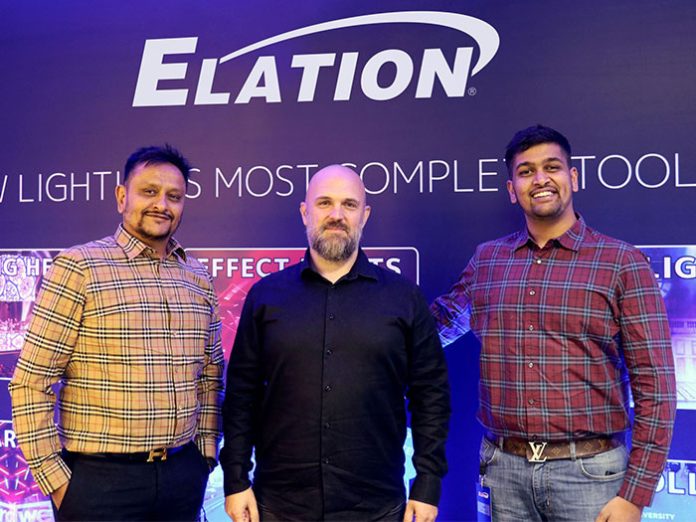 Elation announced that VMT (Vardhaman Megatech) has been appointed as the exclusive distributor for Elation and Obsidian Control Systems products in India.
VMT Director of Sales, Jeff Mandot, expressed: "We chose to partner with Elation because of their reputation as a leading manufacturer of high-quality automated lighting solutions," he stated. "Elation's commitment to innovation and their impressive product portfolio aligns perfectly with our mission to provide the best audio and lighting solutions to our customers. By teaming up with Elation and Obsidian, we can expand our product offerings and provide even more cutting-edge lighting and lighting control options to our clients."
Jonas Stenvinkel, International Sales Manager at Elation, commented: "Having a dedicated distributor in India is an important step in ensuring growth and success in this expanding market and we are very excited for the opportunity it represents. VMT will carry and represent our full portfolio and we are excited for the future expansion into India."
To ensure the partnership's success, VMT is preparing and investing in several areas including training of sales and technical support teams to ensure that customers receive guidance and support, as well as a dedicated marketing and promotional push to raise awareness of Elation in the Indian market.
"We are excited about this partnership with Elation and the opportunities it presents for both companies and, most importantly, our customers," Mandot stated. "With Elation's industry-leading reputation and commitment to innovationand high-quality, and Obsidian's growing reputation as an innovative lighting control brand, the partnership will have a great benefit to customers in India. For VMT, the partnership allows us to strengthen our position in the industry while enhancing our reputation as a trusted provider of professional lighting in the country. Together, we aim to elevate the lighting experience in India's entertainment and corporate sectors and look forward to a successful and mutually beneficial collaboration."