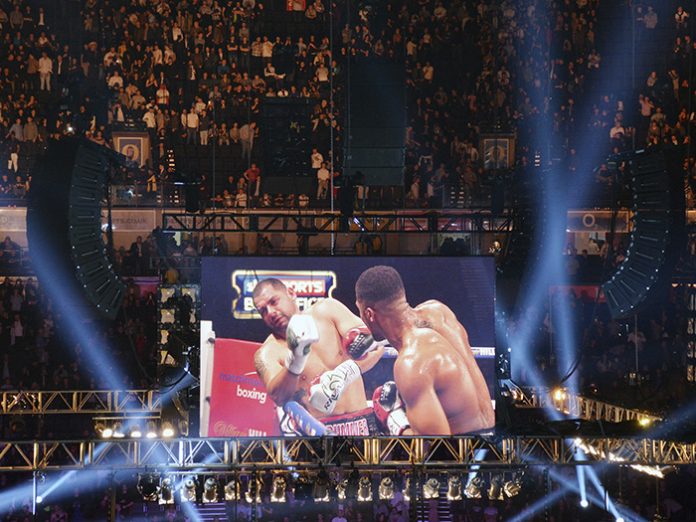 VME used its flagship Martin Audio MLA System to the full at the Manchester Arena recently, for Anthony Joshua's latest IBF World Heavyweight Championship defence live on Sky Sports Box Office.
From their 48-box MLA inventory the Manchester-based service providers can rig differently configured systems to suit venue size and technical requirement, with the EQ tailored accordingly. And according to VME Head of Sound, Mark Cleator, the challenges of reinforcing a live Sky Sports broadcast, in-the-round production for promoters Matchroom Boxing, are entirely different to a conventional rock show.
"Each venue is completely unique," said Mark, "and the rig has to be up in the air within three hours. We share a couple of cable bridges with lighting but all our hangs are double motored to reduce the need for having to tie off arrays, which really helps the rig time."
Manchester Arena certainly provides a challenge for the production company when rigging in-the-round. With the permanent in-house scoreboard providing a 9m square obstruction, getting points in the areas VME require is sometimes not possible due to time restraints.
"In this instance, we used six hangs of MLA, each consisting of four nine-box hangs (seven MLA and two MLD Downfill), as well as two smaller hangs of six MLA to fire over our LED screens," Mark reported. "It certainly helps having the horizontal projection of 90° when rigging in the round, especially when we are pushed so far out due to the scoreboard."
The MLA system is tasked with providing broadcast mic reinforcement as well as Intro Walk-on music. According to FOH Engineer Mike Bell, "With MLA running down to 50 Hz, and the low-end coupling when in the round, there is no need to deploy the MLX subwoofers."
The Sound Engineer also notes that MLA's advanced optimisation process allows coverage to be steered precisely where it's needed – and in this instance the SPL profile is such that the sound is mapped out around the ring where the TV interviews take place. The 'Hard Avoid' setting was again used on the reflective VIP boxes, whilst giving full coverage to the main audience area.
Mike Bell is clear about the advantages of MLA's incredible precision. "The broadcast mics are so sensitive that it's vital we are able to deaden the sound around the ring and then begin the coverage from the VIP section," he said. "Having that level of control with MLA is incredible – we would not be able to put these microphones out over the PA with such clarity if it was not for this system."
After a successful and eventful 2016, VME are gearing up for 2017 to follow Anthony Joshua and his fellow Matchroom Boxers for an even more action-packed year.