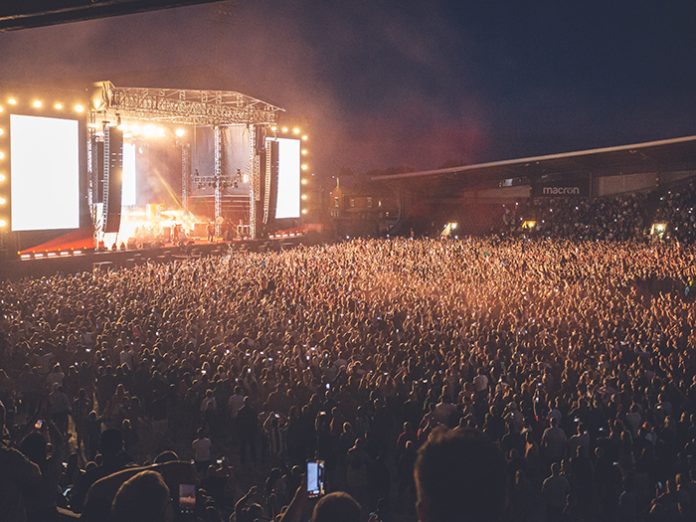 The triumphs of Wrexham Town FC and the kudos of Hollywood glamour bestowed upon them by owners Ryan Reynolds and Rob McElhenney are well known and deservedly so. That Kings of Leon should bring some added grandeur to the end of the season celebrations with two nights playing to sell-out crowds of 20k+ was however, a case of blessed opportunism.
"In terms of a stadium that's never hosted a big rock show before, it was comfortable," said Production Manager, Bill Leabody. "Going forward, staging shows there in the future will not be impossible, but a lot more difficult than what we experienced." Leabody knows better than many what it takes to present a stadium band.
"We were lucky, the main stand had been demolished at the end of season to make way for a new bigger one. What we got was a large open area to build an outdoor stage. The Local Authority worked really hard and are to be congratulated. That, and the huge efforts of SJM (Promoters) to get the newly flattened area properly compacted and stable for the stage build was crucial. SJM were very diligent in their preparations and I can't thank them enough."
The two Wrexham shows were but a brief UK visit by Kings of Leon, followed by a bill topping concert at Berlin's Waldbuhne and headline appearances at Rock am Ring & Park. Three full production shows and two festivals in eight days and they were gone.
"It was entirely affordable because it was a show that had existed for some time," explained Leabody. "The design by Paul Normandale at Lite Alternative, the video conception implemented by Video Design, and the PA from Eighth Day/Brit Row were all safely in hand. The band did music rehearsals in Nashville, while we needed just two days' production rehearsal at Cardiff Arena to program some new songs and add in some new video content. Then straight into Wrexham."
"Eighth Day brought the front end from the US, Brit Row provided the L-Acoustics system – they always make it look easy. Lite Alternative brought – well it's not about the individual lights, it's how he (Paul Normandale) uses them. Beautiful as ever. As for Video Design, Alex (Leinster) and his boys did a fantastic job. The flying LED pods looked very cool, while Ben Johnson from Fuse, who came over with the band, did a fantastic cut from an eleven-camera shoot. From a standing start, everyone delivered."
"It was a very celebratory event and everyone was up for it. Everyone: audience; local crew; Wrexham council; the club and our production team – we all left very happy. It was a good experience. I remember thinking back as we left – had there been a troublesome moment? No, it had all been very smooth."