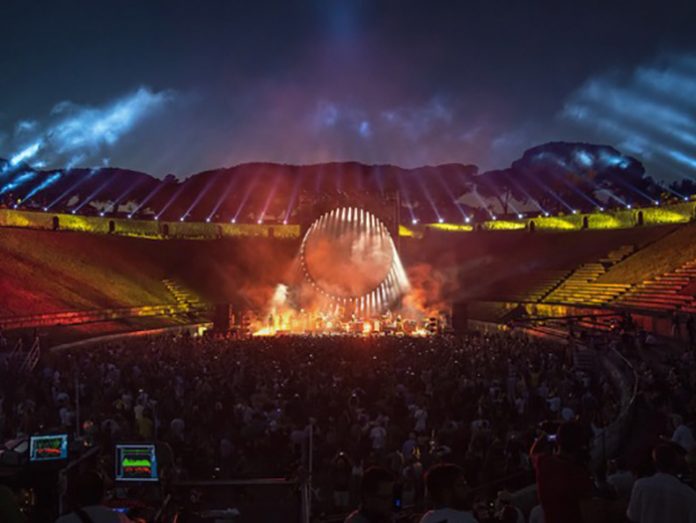 David Gilmour has taken his Rattle That Lock tour to a selection of venues throughout Europe, South America and North America, with VER taking care of the lighting and on stage visualisation requirement.
Central to the production installation has been the classic 'Floyd' circular screen, which VER evolved mid-tour from it's initial projection configuration to a custom built Revolution RS5 LED wall capable of delivering vibrant, high contrast visuals. Ultra clear and powerful enough to handle any conditions, the screen proved the ideal media upon which to display a selection of career spanning visuals plus crisp, close up footage of Gilmour at work, captured 'real time' using Sony HXC-100 HD Cameras.
Housed in a bespoke circular trussing frame, the screen was edged with 48 Clay Paky Sharpy automated heads, complementing the performance with a seemingly infinite combination of colour and movement under the expert guidance of Lighting Director Mark 'Sparky' Risk. Working in harmony with the music, Phillips VL 4000 Wash and Solaris Flares were also on board, bathing the stage in deep, intense colour and seamlessly blending between moods, perfectly choreographed by long time Gilmour associate, Designer Marc Brickman.
Commenting on the tour, VER Head of Lighting Europe, David March commented: "the visual interpretation of the David Gilmour shows are a key element in the overall production. We're immensely proud to be working with production crews of the highest calibre delivering state of the art audience experiences – it's incredibly rewarding to know that we're playing a part in helping designers realise their creative vision at venues from São Paulo to Pompeii."