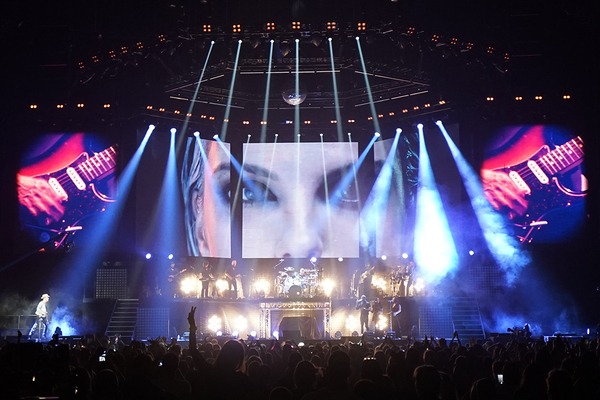 Making a return to the live stage after a 25 year hiatus, Matt and Luke Goss of Bros, headlined a brace of shows at London's O2 Arena, giving a fresh airing to their back catalogue of shimmering 80s pop hits, supported by VER and Mirrad.
Working alongside Jamie Thompson and David Cohen at innovative show and lighting design outfit Mirrad, the team at VER London provided the crew with an extensive LED, video, lighting and camera package to help build the suitably vibrant installation.
Featuring a 6 metres upstage wall created using over 160 square metres of Everbrighten 15mm LED, angled for added depth, the performance area was stepped front to back across two levels. The band were positioned directly below the screens on the first 'step', overlooking the main stage floor, with the drum riser rigged centre stage.
VER provided over 200 lighting fixtures, rigged using 400ft of HUD trussing in a double halo configuration with a classic mirror ball at the centre. The rich mix of automated heads and effects specified for the show allowed Lighting Director Francis Clegg the creative scope to shroud the performance with an almost limitless mix of moods, colours and textures.
The show also featured a selection of video sequences and effects played out over the LED backdrop. A mixture of band footage, both old and new, was interspersed with a live feed of the on stage performance, captured live using a VER supplied, 3 camera imag package and video crew.
Commenting on the show, VER Business Development Manager, Lester Cobrin commented: "The entire crew did a fabulous job in bringing a huge slice of classic 80s pop magic to the O2. It has been an absolute pleasure to have supported the team at Mirrad on the shows; they looked great from beginning to end and did a wonderful job of giving the Bros songs a new lease of life!"