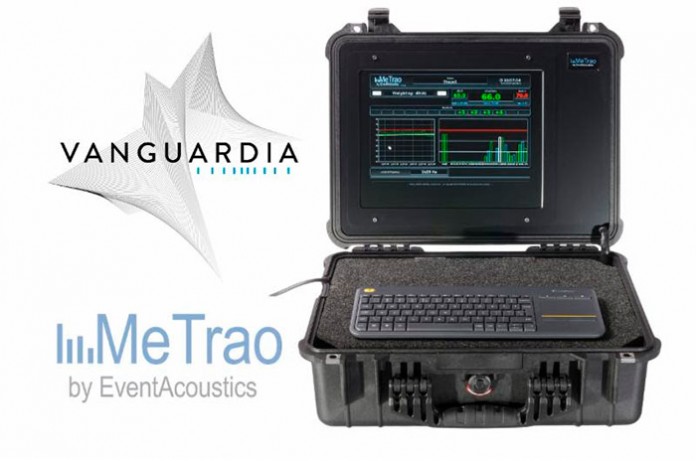 Vanguardia, the UK's leading independent audio engineering and design consultancy and currently celebrating ten years in the entertainment sector, has secured sole UK distribution rights to MeTrao – a pioneering tool set to transform audio management at live events.
On 1 May 2016 Vanguardia is launching MeTrao's distribution, through which audio professionals and event organisers across the UK will be able to benefit from the products technical wizardry.
Offering an entirely new way of measuring sound and vibration, MeTrao was devised by Dutch entertainment technology experts Event Acoustics, based in Utrecht. The intelligent sound management product allows event organisers and sound engineers to meet noise control regulations with ease – while maximising the quality of audio output at the highest possible levels. Vanguardia has done a deal with the product's main European distributor, Ampco Flashlight Sales, to secure UK rights.
Packaged in an easy-to-use unit, MeTrao is the only product on the market that not only measures all sound-related data, but also provides solutions to any arising issues. Uniquely, it can pinpoint which sound system, from a multi-stage event, is causing the dominant noise off-site so that potential breaches of regulations can be detected in advance and avoided. Not only does MeTrao detect the stage causing the highest levels off site, but it also establishes the frequency of the sound enabling minor adjustments to be made to the overall sound system. This permits the maximum level to be achieved at all other stages whilst meeting the critical off-site limits.
Director of Vanguardia Jim Griffiths said: "MeTrao is a real game changer for the industry. The possibilities it offers are truly limitless. Deftly dealing with even the most complex live conditions, its intelligent software analyses all available sound data to control the environmental impact in each area of a venue or location. It uses real-time data analysis to take away the guesswork of live event noise management at multi stage festivals enabling the specific stage causing the highest levels in the community to be quickly identified. Packaged in an easy-to-use unit, it truly represents the next generation of sound management. Its ground-breaking capabilities are what will continue to strengthen Vanguardia's industry leading position."
Marcel Albers, director of communications and marketing at Ampco Flashlight Group, said: "When seeking a UK partner for MeTrao, we wanted a company with an unsurpassed reputation for both technical expertise and customer service – which is why we decided upon Vanguardia. No other company offered the same degree of knowledge, experience and customer commitment. This is such an important launch for us, but with Vanguardia we know it's in safe hands."
Peter van der Geer of Event Acoustics said: "Vanguardia is the perfect fit for MeTrao. Discovering a company with the same ethos and goals as Event Acoustics was like a miracle for us. The company's ambitious young team doesn't just follow the standards – it sets them. And that's how we work too. We are constantly striving to find new ways of circumventing or overcoming problems with technological innovation and invention. There has been a great deal of interest in MeTrao in The Netherlands and we know, with Vanguardia as its champion, the UK sound engineering industry is going to embrace it fully too."