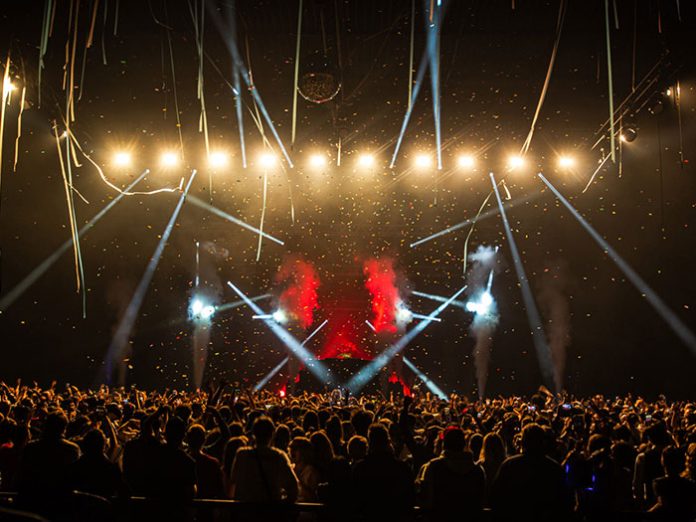 Among the highlights of the Bière à Lille week-long festival this year was Nuit du BAL, an electro-pop show headlined by Martin Solveig which relied on CHAUVET Professional fixtures supplied by Alive Group and designed by Valentin Lemarquier. 
Lemarquier created bold looks that reflected the music and personality of each artist. Among the fixtures in his rig were 14 STRIKE Array 2 blinders that provided dramatic exclamation points of light throughout the evening. "With the red shift function, this is truly the best product on the market in this category," Lemarquier said of the two-pod IP65-rated fixture. "It is reliable and quick to set up. I always choose this as a blinder light."
Bringing an extra level of energy and movement to the lightshow were 34 Rogue Outcast 1L Beam fixtures. "I needed a fast, powerful beam-type moving head," said Lemarquier. "Having already used this product, and seeing that it was available in large quantities, I didn't hesitate to put a lot of it in my light plan. It's a reliable, light, doesn't consume a lot of energy, and is easy to install with the power supply + DMX copy. The machine's capabilities and rendering are very good. It's a beam LED that works well."
Although he was operating under a tight time schedule Lemarquier nevertheless wanted to ensure that the Nuit du BAL supported the artists on stage with a wide array of looks. This is a big reason why he speced 12 Color STRIKE M motorised strobes. The output from this fixture's two central white light tubes packed a powerful punch.
"The Color Strike M is a super-practical, go-anywhere, must-have product of the moment," said Lemarquier. "The combination of strobe and wash functions make it an asset in a lighting kit. Especially here for an electro party. With just 12 pieces, you can light a Zenith (a generic term in France for a concert venue with up to a 12,000 capacity) without looking ridiculous. It's become my reference when I need a versatile strobe projector."
Lemarquier created a show that the beer lovers at Nuit du BAL, or any electronic music fan would be happy to raise a glass to.