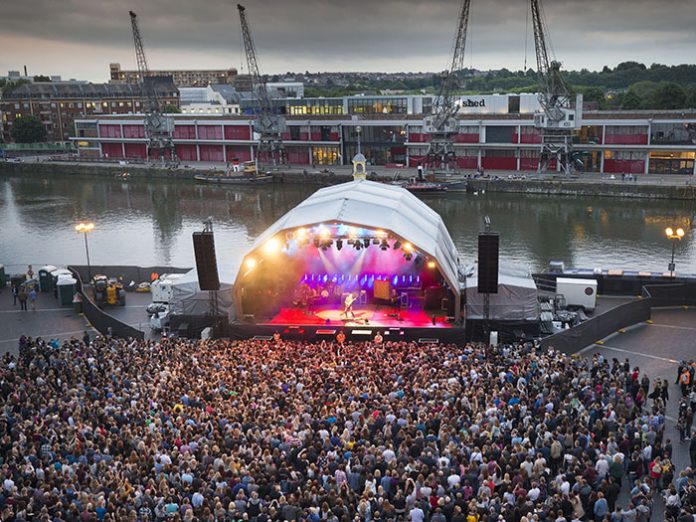 Set against the backdrop of Bristol's iconic Harbourside, headliners Catfish And The Bottlemen, Sigur Rós, The Last Shadow Puppets and James Bay led four nights of music at the end of June, with lighting company Utopium called upon to light up this year's Bristol Summer Series.
Utopium's Colin Bodenham and Jon Newman combined their skills to help create a stunning setting for organisers Metropolis Music through the supply of a comprehensive lighting production, including newly acquired equipment from Utopium's extensive inventory. As well as on-stage lighting, Utopium also designed and delivered architectural lighting to illuminate the Lloyds Amphitheatre building.
For the main stage flown rig, Utopium supplied a trussing system suspended by 12 of its new double braked hoists, drawing upon much of its new equipment throughout the festival, including SGM Q-7's, Chauvet Q-Wash 419Z-LEDs and Martin by Harman MAC Quantum Profiles. All floor packages were supplied by the bands. Behind the audience, the Lloyds Amphitheatre pillars were lit using 20 Chauvet COLORado 1-Quad IPs and four SGM P-2's, adding to the ambience of the outdoor venue.
Jon Newman commented: "We've worked with Bristol Summer Series for three years, and it's a great opportunity to put some new products to great use, which enabled us to offer increased creativity, with reduced weight loading and power consumption. Being a Bristol-based company, we look forward to supplying this event and catch up with incoming production teams on our home turf.
"As well as the stage lighting, we also get the opportunity to illuminate the iconic Lloyds Amphitheatre building which helps create the perfect setting for the 20,000 music-lovers who attended this year's event."