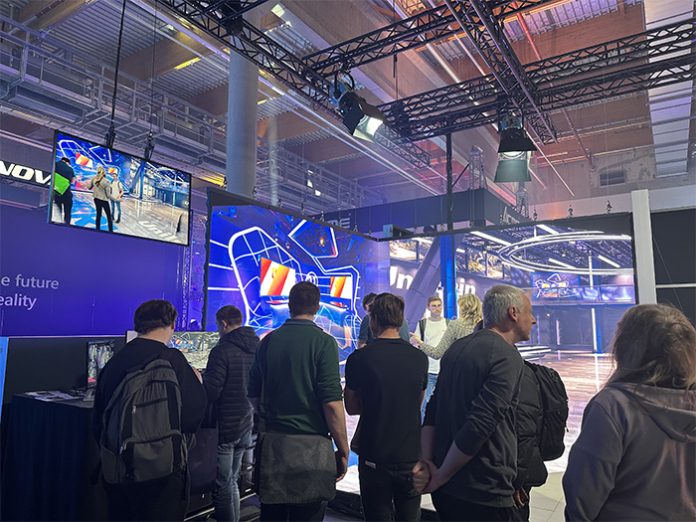 The 4-day Prolight+Sound (PLS Exhibition), the world's largest stage lighting and sound technology exhibition, ended in Frankfurt, Germany on April 28 2023. Unilumin exhibited several of its flagship LED products, XR virtual production solution, and other integrated solutions to demonstrate Metasight scenarios at the exhibition.
Highlights of Unilumin Booth
1. XR Virtual Production: The popularity of the Oscar-winning film "Everything Everywhere All at Once" starred by Michelle Yeoh shows that the new technological revolution in the film industry is booming, and that virtual digital film shooting is becoming the mainstream film shooting method, bidding farewell to the technology of green screen. Up to now, there are more than 140 digital film-shooting studios in the world, and Unilumin has built 110 of them, ranking first in technology and market share in the world.
At this exhibition, Unilumin, joining hands with Pixotope, demonstrated the easy workflow of XR turnkey package solution on its "three-sided LED XR stage", which is mainly applied to advertising shooting and live streaming for the promotion of goods. The wall screen uses Unilumin's UpadIV Pro2.6, and the floor tile screen uses the UDF3.9 series, which was also used at the 2022 Ice and Snow Extravaganza.
Boasting its high refresh rate, high frame rate, high brightness, and wide color gamut, Unilumin's UpadIV series display can be used for wall screens and ceiling screens to meet the demands of XR broadcasts, XR virtual studios, etc. Unilumin's UDF series floor tile screens have outstanding performance in their bearing capacity, waterproofing, and modular design, which were perfectly used at the 2022 Ice and Snow Extravaganza and other large stage performances. It is perhaps the best choice for digital floor tile screens.
2. Creative Display Screens: With the development of technology, the shape of LED displays is no longer limited to flat squares, and shapes like columns, spheres and cubes emerge in multitude. LED displays can not only fulfill certain functions but also have aesthetic value, so they play a vital role in attracting tourists.
At the exhibition, Unilumin's XS, XC, and UpadIV products completed customized creative splicing, and its UpadIV-S and UpadIV-C products attracted a large number of visitors with their cylindrical and columnar shapes.
3. Hot-selling Rental Products: At the exhibition, Unilumin's star products of UpadIV, Unano, and URMIII, which are portable, convenient for disassembly and maintenance, excellent in display and creative in design, can meet the needs of customers for rapid installation and disassembly, and be used for high-end indoor rental scenes such as large-scale enterprise activities, forums and conferences, exhibitions and auto shows. These products were well-received by all the exhibition participants.