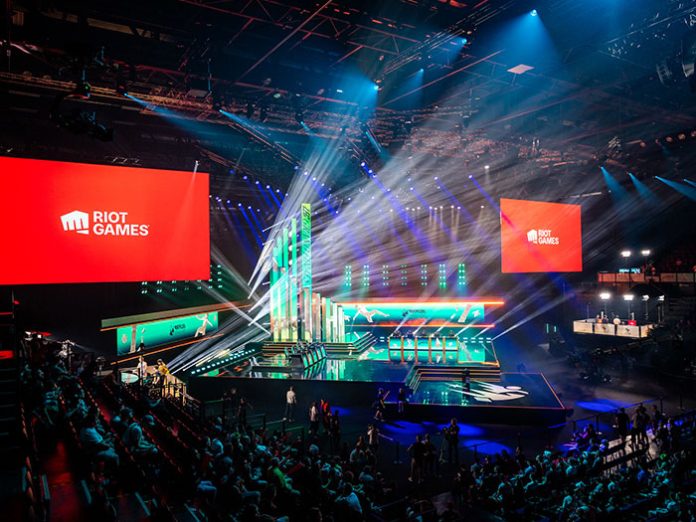 The League of Legends EMEA Championships (LEC) took place 8 to 10 September at the Sud de France Arena in Montpellier, France.
TSL provided the lighting package for the three-day event, working with Head of Production Ben Vignola from 1 Up Productions Ltd and Lighting Designer Mat Stovall on behalf of ConCom inc.
A range of TSL's fixtures were utilised from manufacturers such as Ayrton, SGM, Robe, GLP, Martin and more. Over one hundred Ayrton Perseo Profiles were used to provide audience illumination as well as effect lighting.
TSL's Robe Spiider enabled programmers Eric Barth and Zach Matusow to ensure that all players had keylight as well as provide effects via the fixture's in-built flower effect.
Acting as backlight behind the players' platforms and used to shape the stage were our SGM Q8 DualSource Strobe / Flood / Blinders. Additionally, 50 Robe MegaPointe.
TSL also provided a control system consisting of GrandMA3 Full Size consoles utilising data distribution via a network of Luminex Luminode 12 and Gigacore 16xt switches. Taking advantage of the Luminode's "DMX Redundancy" feature alongside a dual redundancy fibre optic loop.
TSL Account Director, Dom Sheerman commented: "As always the equipment was prepared and rigged to TSL's high standards but a special mention has to go to our crew on these shows. This core team have worked together on many high-profile e-sports events for a number of years and with experience and teamwork built up over that time, they really do shine through. I am proud to have such a trusted team of professionals working for us."