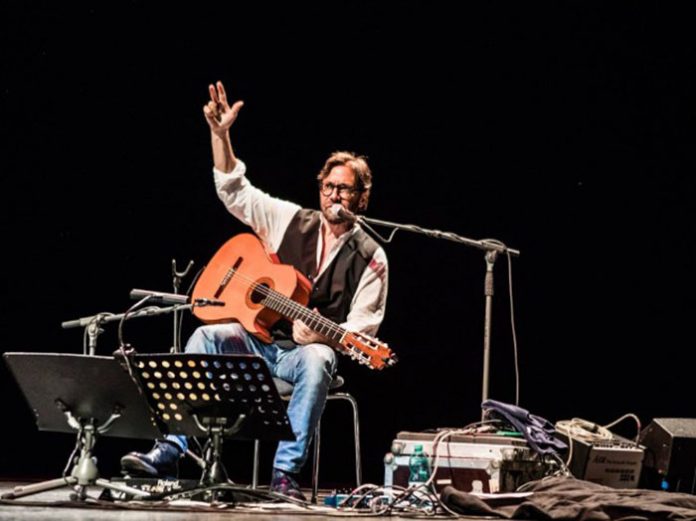 When Jazz legend Al Di Meola played a sell-out gig at Darmstadt's 1000-capacity Straatstheatre, Tonwerk's Jan Weimann deployed a Uniline FOH system from APG, to meet the grade.
For Weimann, using the Uniline with this artist was the only possible choice: "Al Di Meola is quite specific about loud stage environments. The Uniline system has such a great directivity that there's so little sound spill to the stage from the PA system. We also shielded the drums with acrylic glass at his request!"
The system was configured to provide high-clarity coverage for every seat with minimal backward spill. Comprised of left and right hangs of eight UL210 three-way line array modules per side, with bass support from three stacked UL115B subs, the system was driven by APG controllers. For Weimann, APG's Uniline is his preferred system because, he said, it implements a "large stereo image, compared to other systems where you have a small stereo spot just in the middle of the room with "switching" either to one or the other side."
Weimann has reinforced many artists playing the Straatstheatre with the versatile and modular Uniline system, and he pointed out: "it performs extraordinarily well with artists like Al Di Meola."
He said the reason behind this as: "the isotop driver doesn't colour the sound but replicates it honestly – and there's no sharpness or any kind of "masking" as the music rises in intensity and volume. "APG has quite a unique tonality. Compared with other systems, the APG sound reproduces a much larger spectrum of sound, which allows you to listen through the whole mix without losing any details.
"I often use the word 'Durchhörbarkeit' to describe the APG sound, which could translate as being able to actually listen to the music, instead of just hearing it. To give you an example, I did a shootout last year with a number of speaker brands, and the Uniline system was the only one capable of identifying all five instruments of a horn section in an arrangement."
Confident of his trust in APG and the Uniline system, Weimann takes the pressure of working with high calibre artists in his stride. "Al Di Meola is known for being a perfectionist when it comes to sound, so if you can rely on the material you are using, like the Uniline Series from APG, there is not much to go wrong.
"Al Di Meola uses his own FOH technician, Csaba Toth Bagi, who is also a very talented guitar player. For this show, I was responsible for the monitors and I used a TC M3000 dual engine reverb, because I particularly like the clarity and unobtrusive sound it provides."
The APG Uniline is a versatile modular line array loudspeaker system comprised of four modules. The main 3-way module and dedicated bass unit are supported by a downfill module and a subwoofer.
Designed for maximum flexibility and scalability, Uniline is suitable for all line array applications from medium-throw to very long-throw coverage, inside or outside, for touring or permanent installation. The series has recently been expanded to offer a smaller 'line source' system, the Uniline Compact series.