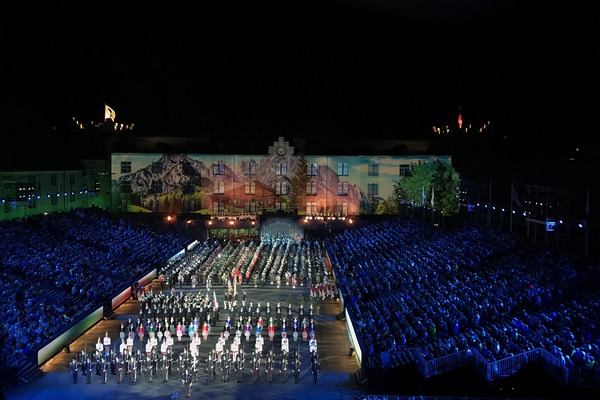 As Switzerland's Basel Tattoo celebrated its 12th anniversary in 2017, it also marked the 12th occasion that production utilised TiMax object-based spatial audio and show control to maintain localisation and musical timing between the marching players, and the distributed spatial reinforcement sound system.
An import of the legendary Edinburgh Military Tattoo, which also uses TiMax, the Basel production, is staged outdoors in front of the 18th century Kaserne Hof barracks on the Rhine. A dozen or so acts of marching bands, dancers and sometimes animals perform across a 70m by 25m parade arena surrounded by audience seating on 3 sides.
Award-winning Swiss sound designer, Thomas Strebel, specified a TiMax SoundHub-S48 spatial processor which received, via MADI, ten arena ambient mic feeds plus 5 groups from a DiGiCo SD7 console, comprising submixes of performer radio microphones plus Ableton music playback for various dance troupes. 2017 also featured an immersive spatial sound effect of a helicopter, rendered and played back by TiMax under remote MIDI control, which flew across the arena and landed for an abseiling Swiss Army band act.
Out Board's Dave Haydon provided on-site TiMax setup and programming support to Strebel's audiopool GmbH crew, with Roman Huber running the DiGiCo at FOH and Jeroen Van Vulpen in charge of TiMax. Joeroen Van Vulpen built a MaxMSP MIDI patch to allow range-limited control by an Alias8 hardware fader remote hooked up to TiMax. Performers' radio microphone groups from the DiGiCo were moved around in the TiMax PanSpace, between delay-matrix objects relating to 24 Image Definition localisation and timing zones distributed across a plan of the arena.
In addition to object-based dynamic delay-matrix localisation and timing functions, TiMax was used for equalisation and zone level control across a dozen d&b audiotechnik clusters on poles in front of the side-seating audience plus 5 separate divergent channels of d&b line array stacks on the ground in front of the main VIP stadium seating.
A total of 11 L-Acoustics sub channels were spread out under the seating areas, all driven from separate from TiMax channels and aligned back to the Image Definition across the arena, plus additional stage band plus choir and trumpet balcony Image Definitions. This sub-bass alignment was particularly important for several acts who integrated a amplified electric bands and drummers into their sets. The TiMax SoundHub processor was supplied by Out Board via audiopool and hooked up to the PA by Winkler using a site-wide Optocore backbone.
Joining the usual multinational horde of Massed Pipers were military musical ensembles from as far and wide as Australia, USA, Norway, France, UK, Switzerland, and troupes of dancers from Russia, New Zealand and Australia. Sound designer and audiopool founder Thomas Strebel remarked: "The sound as always was excellent with TiMax, this year was the best premier ever with a standing ovation, the producer was very happy".
Edinburgh Tattoo also used the TiMax2 SoundHub spatial audio platform, supplied by Out Board as a rental to sound contractors Wigwam Acoustics, specified and programmed by the Edinburgh event's sound designer Seb Frost.