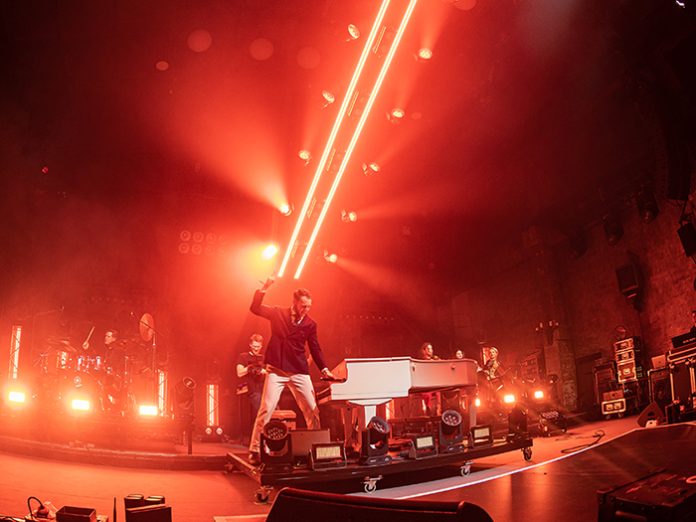 Sefa Jeroen Vlaarkamp, known by the stage name Sefa (pronounced Sèfa), has been making huge waves in the music scene with his high powered hardstyle and hardcore scene music, with Frenchcore as a subgenre.
Sefa's performance at DIE HALLE Tor 2 surpassed even the highest expectations, not only musically, but also in terms of the dynamic and evocative production design that complemented it. With the technical support and lighting design of Guido Schütz of Laser Frame and Patrick Hirt of Creative Sounds Veranstaltungstechnik, the show captivated with a unique concept for this genre of music.
The sold-out show was spectacular on many levels. A big band and a small string quartet gave the impression of an elaborate show production, that went far beyond the parameters of a standard DJ concert. The evening was rounded off with a 45-minute DJ set that served as a testament to Sefa' virtuosity.
Commanding attention at the center of the stage was a grand piano. Adding to the visual impact of that piano, which was set up on a rolling platform, were the four CHAUVET Professional Rogue Outcast1 BeamWash fixtures set up in front of the instrument. With intense light from their 300-watt light source fanning out from the piano, the high output fixtures gave the piano a magical aura, almost as if it had landed on the stage from a higher place.
The transformative quality of the stage was further heightened by the geometric patterns of light created on the rake line of truss overhead. Light from an additional 14 Rogue Outcast1 BeamWash units fanned out from this truss structure in a variety of different directions to reflect the depth of Sefa's music while still focusing attention on the performance on stage.