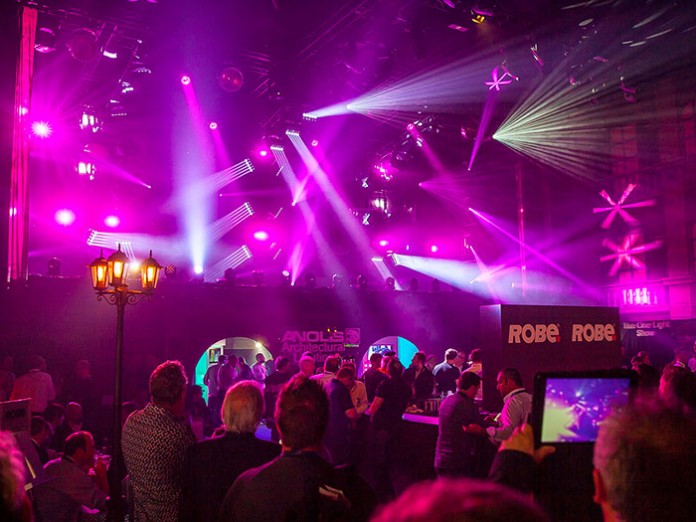 Robe took its winning themed theatre environment concept to the 2016 Prolight+Sound expo, transporting the Robe Piazza to Hall 3 of the Frankfurt Messe where the Czech manufacturer invested in a space three times larger than at any previous Prolight.
Launching and showcasing a raft of new and innovative products, the booth was lit with over 250 moving lights including the new DL7 and DL4 ranges of luminaires designed for theatrical and performance applications, Robe's signature high powered BMFL range as well as several new products like the Spikie, Strobes and ColorStrobes and picklePATTs. The lighting consumed 12,288 channels of DMX across 24 DMX universes.
This completely unique high-impact setting enabled visitors to see the products working in situ and embrace the amazing atmosphere. It was packed with people throughout the four days from start to finish. Robe also won a coveted PIPA (Prolight+Sound International Press Award) for the BMFL WashBeam in the 'Lighting' category. Voted on by professional industry journalists worldwide, Robe beat stiff competition to receive this recognition.
"Our expectations were exceptionally high going into the show." commented Robe CEO Josef Valchar, "However, I can honestly say they were completely exceeded in every way! From the interest in the products and our brand generally, the overall audience reaction to the booth, the amount, quality and truly international mix of the visitors, and of course, the resulting business that has been generated! It was an incredible expo for us."
Guests to the booth were kept fully entertained with a feast of activities including an hourly spectacular rock lightshow, complete with special soundtrack and a tribute section to the late David Bowie; a comprehensive new 'Voice-of-God' product presentation, and plenty of great vibes together with that now famous Czech hospitality. Four separate specially designed 'demo studios' were running simultaneously – and constantly – to ensure that those wanting a more in-depth look at specific products could receive immediate attention.
The "One Light Show" was once again an additional performance attraction for people wanting to find out more about being inventive and interesting. This emotional 12-minute journey took place every hour staged in an adjacent intimate black box theatre space, bringing a popular 'non-commercial' element to Robe's presence. Anolis, Robe's architectural LED manufacturing sister company had its own area integrated into the Piazza which was also busy throughout the show, bringing added value and another dimension to the 'Robe Experience'.
Wednesday night after the show closed at 7 p.m., the Piazza, complete with genuine cobblestone floor, Vespa's, delicious Italian pizza and numerous other details was transformed into a stylish groove-tastic club environment. Invited guests moved their waist-lines and imbibed cool contemporary sounds from Belgian
Robe collaborated with draping specialist J&C Joel on all the custom printed soft goods around the stand and the booth lighting was programmed using Avolites' Arena and Tiger Touch consoles.