A meeting 10 years ago saw FOH Engineer Jon Sword and five-piece British rock act The Feeling join forces to forge a successful career as a credible live act. Together, the pro sound buffs have played the world in various sized venues and 2016 marks the year that Cadac consoles became part of the story. TPi's Kelly Murray speaks to the man behind the live mix of this popular band.
The story of how British pop rock act The Feeling came to notoriety is quite the (eventual) fairy tale, as their FOH Engineer, Jon Sword, explained: "They learnt to cut their cloth as an apres ski band and were together for a decade before they found any kind of mainstream fame." Indeed, the La Tania ski resort in the French Alps played an important part in the band's early career, when they decided to release an album post ski season. "They recorded their debut album [2005's Twelve Stops And Home] in a shed at the bottom of the garden and sold a million copies straight away!" said Sword.
The quintet from West Sussex, comprises frontman Dan Gillespie Sells, bassist Richard Jones, brothers guitarist Kevin and keyboardist Ciaran Jeremiah, and drummer Paul Stewart. All five, according to Sword, are pro audio fanatics.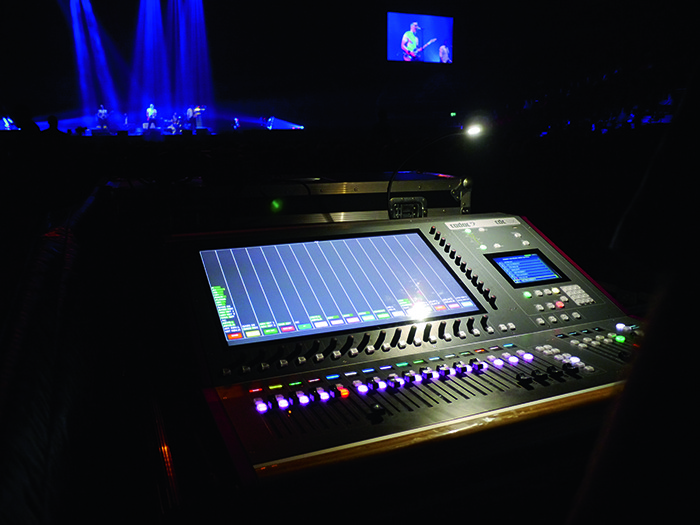 "They're a band who are very into sound not to mention audio buffs who produce and mix their own albums so being their sound engineer is either the worst of the best job," he laughed. "They know too much! But I happen to think it's the best job because they're realists, which makes them a pleasure to work with. The first gig I ever mixed for them, was at the [tiny] Camden Barfly, London. I'd never heard them play before but as soon as they'd finished their first song I thought 'where have you been all my life!' They're very knowledgeable musicians, every one of them."
That was in January of 2006, and over 10 years later, Sword is still mixing the band with feverish enthusiasm, due in part due to his appreciation for this new FOH rig. No stranger to TPi, Sword featured in the March 2015 edition with '70s legends 10cc, during whose tour he mixed on a Cadac CDC eight-32, the console's first ever UK tour. Over a year later and Sword is still flying the Cadac flag, this time opting for smaller sibling, CDC six. The CDC six is an evolution within the manufacturer's latest range, offering users a clear and concise graphical interface in a compact package. This tourable unit with its logical pathway is something Sword currently favours over any other desk, and despite having toured with The Feeling for some time, believes there's nothing on the market that could allow him to do his job any better than this tiny audio titan.
The FOH set-up for The Feeling's recent arena tour (opening up for ELO who are being mixed by Gary Bradshaw – "one of the best in the world" according to Sword) was a CDC six and a CDC I/O 6448 stage box. The popularity of this spec – with both Sword and the band – led on from The Feeling's promo events, which utilised a CDC six alongside the smaller CDC I/O 3216 stage box. Continued Sword: "We've recently been playing small venues and I've been using the CDC six at FOH in 300 capacity venues and then for our arena shows with 14 mixes, it's an absolute breeze.
"When Cadac consoles first emerged, the musicality of the desk was amazing. I was impressed right from the start, and I'm a big believer that you've got to give most things a go to understand whether or not it works for you. I've always been a creative engineer, so I like to push the band as much as I can, and get involved in the mix. We like to produce an all-encompassing rock sound, and the CDC six sounds fantastic for this."
The Cadac stage boxes house the signature pre amps which, according to Sword, "makes the CDC Series sound so great – it delivers that warm sound that I really like. The CDC pre amps are serious broadcast quality. Plus, it's very simple to operate so I get to spend more time concentrating on the gig and less time trying to work my way around the desk! The band haven't asked me for a single thing, not once during the entire tour – that's a sign that things are going very well! I've had zero issues with the desk for the whole tour, and bearing in mind that I'm walking into the arenas as a support engineer, it's been great to know I'm in a reliably consistent situation."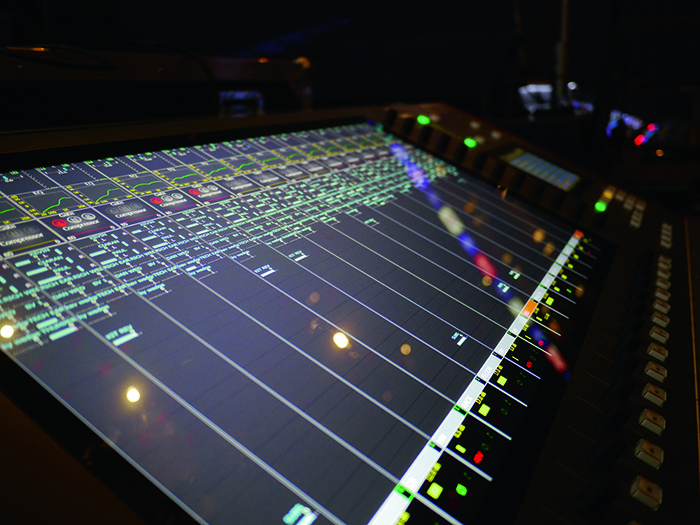 Moving into the summer season, the band are gearing up for festival shows across the UK. Sword confirmed that the band are so comfortable with the sound of the CDC six, that they've requested one be used during their festival appearances in the monitor position. "Because we've already done the club tour, I can use my show file from those gigs to give to the monitor engineer, which makes everything so easy. I want to be able to turn up at work and know that we're going to be able to do a great job and feel happy at the end of the set. I know we can do that with this desk," he confirmed.
The support from Cadac has also been of great comfort to Sword, who praised the way the brand has been presented to the industry. "It's a bespoke desk in a market that's already swamped, but they're doing an amazing job with it. I honestly think it sounds better than anything else out there. It simply is an amazing piece of kit and the more I use the desk, the more I want to use it on everything I do."
The band's upcoming gigs include appearances in Manchester, Sheffield and Surrey, with Jon Sword at FOH, chances are you won't walk away disappointed.
TPi
Photos: James Cumpsty