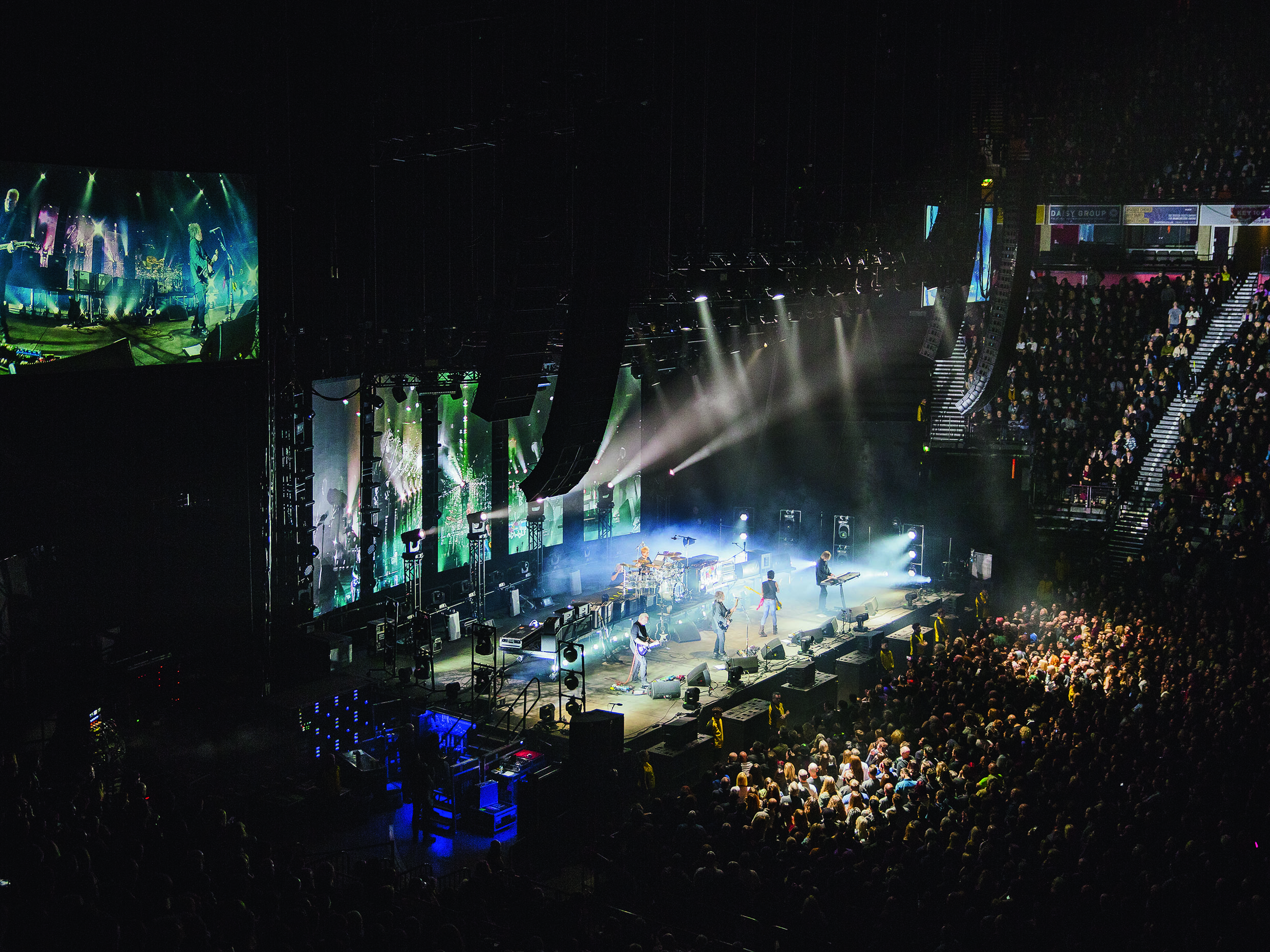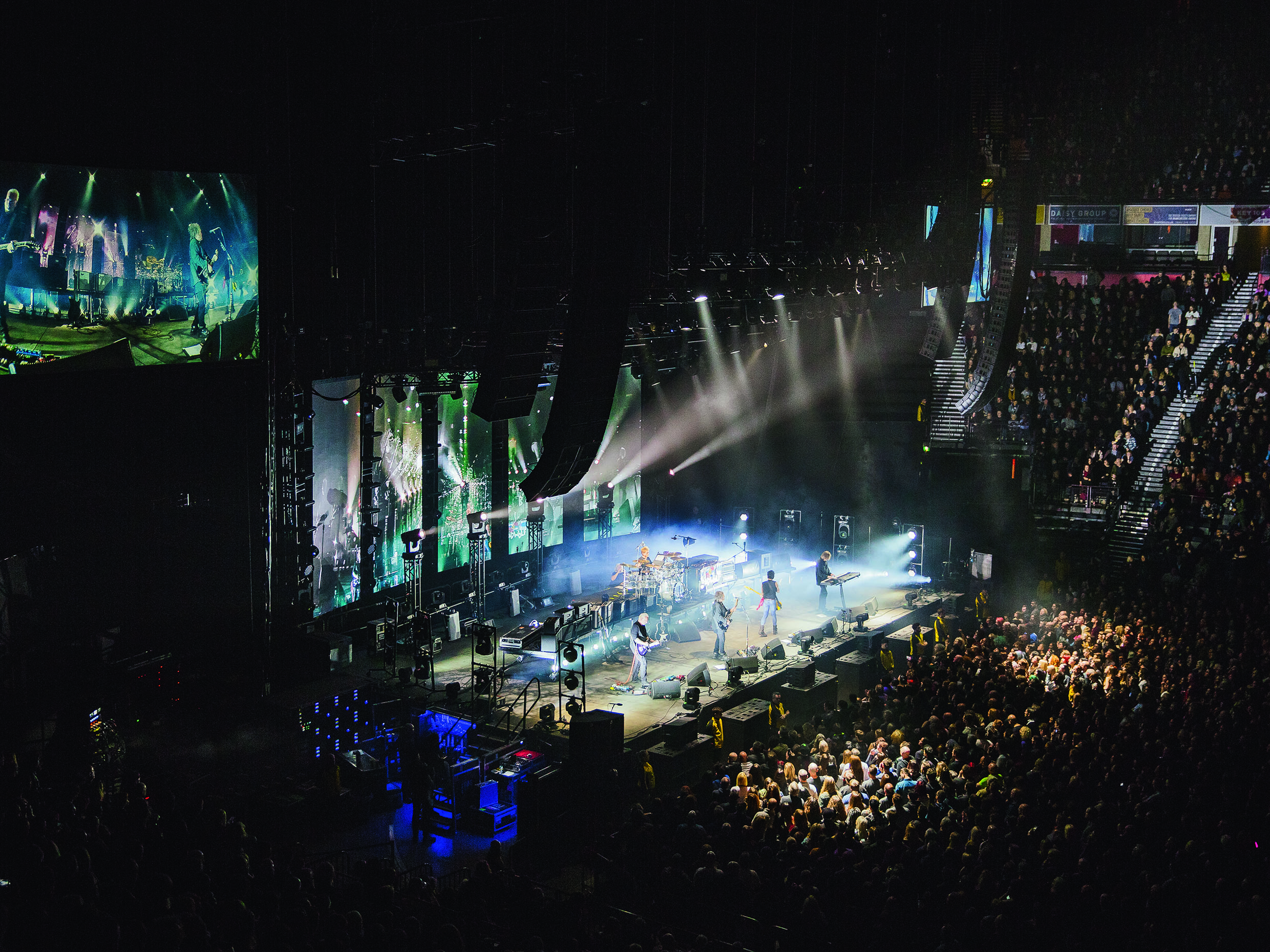 A colossal string of hits and an ardent fan base have ensured that The Cure have been held as one of alternative music's standard bearers for over four decades. TPi's Ste Durham was on site at Manchester Arena to get an inside look at the band's impressive return to the touring circuit.
November 2016 saw The Cure return to Manchester after 12 years away from the city's concert venues, with tickets understandably flying out of the box offices the second that the tour was announced at a similar time the year before. Luckily for these devoted legions, The Cure repaid their conviction with a live show that pushed the touring crew's audio-visual capabilities to the limit – driven in no small part by the band's multi-talented frontman, Robert Smith.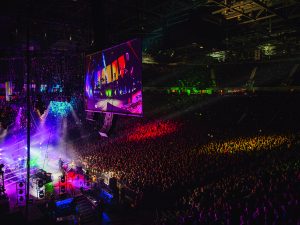 SHOW DESIGN
The Cure has always been something of an enigma in terms of their musical direction; boasting a back catalogue that can just as readily serve up a withered slice of angst-ridden melancholy as it could a generous helping of dewy-eyed pop rock. Over the years this has given its crew, particularly the visual department, something of an embarrassment of riches when it comes to deciding how the band's show is going to translate to their dedicated supporters.
The only feasible way to meet such a challenge was to design a show versatile enough to belt out stark, post-punk looks one minute and hazy summer scenes the next – the man for the job was Angus 'Mac' MacPhail.
The LD is currently on his second spell with The Cure, having originally started as the band were riding the crest of the new wave punk revolution in 1979, meeting them through a tour with Generation X. Mac picked up the tale: "After several years I left to work for other groups and didn't get back together with The Cure until Robert came to see a show I was doing in the 2000s. Due to various scheduling conflicts it wasn't possible to work with them until 2011, but as soon as I was able I jumped straight back in and haven't left since."
During his hiatus from The Cure, Mac worked for a variety of different acts from INXS to trip hop pioneer Tricky, all of which armed him with new skills to bring with him when he returned to the fold. He said: "Tricky in particular was really interesting as it was such a different style of lighting – it was less about highlighting verses and choruses and more about the overall vibe that I could create."
Mac continued: "All of the songs are structured and the lighting works in quite a formulaic way around them. For example, if Robert sings about the sun, then I'll make sure there's plenty of yellow in there – it's not rocket science! Even so, Robert still has a lot of input with making sure I pick up on musical cues for lights.
"He leaves a lot of it alone as well; I guess it's quite interesting to have your interpretation alongside that of other creative people. We sometimes still change things like fixtures while we're out on the road and I'm always tweaking. If something doesn't look right or if someone's not happy then we're not doing our best."
As well as Smith, Mac also consults closely with PRG XL Video's Ben Hornshaw, the tour's Lighting Programmer. "The one thing that I have always maintained is an interest in new technology, particularly in terms of what the fixtures themselves are capable of," Mac commented. "That said, I'm not a fast young programmer – that's why I have Ben around. Rather than me struggling and being bored, we have someone who is there primarily to handle that side of the gig, giving me time to think about song structures and trying new things with new products."
The show design was centred on a large, slightly curved upstage screen and a versatile lighting rig fitted with Claypaky Mythos, Sharpy Beams and Washes, Ayrton MagicBlades, PRG Best Boy Spots and Washes, Martin by Harman Atomic 3000 Strobes, Solaris Flares and three sizes of GLP impression X4's – Bar, L and S – all of which was provided by PRG XL Video.
Mac talked TPi through his choices: "It was a mixture of tried and tested fixtures and a couple of new ones. For example, the Mythos was a no-brainer as there's no other light that can compare to its colour and gobo strength, whereas the MagicBlades were more of a risk as I thought they could look a bit 'disco' for The Cure. However, once they were up they added a lot to the look of the set and they're incredibly reliable."
The crew had lined 10 Mythos across the back truss at Manchester Arena, from which six torms were suspended in between the video screens, each containing 2 Mythos, 4 MagicBlades, a GLP X4 L, an Atomic strobe and Best Boy Spot.
Although the overhead truss and a selection of fixtures had to appear arc to an extent in order to mirror the 8° curvature of the screen, the truss was mostly straight with a slight angle at the end. Mac explained: "If you're sat at the side it appears as if the truss curves in slightly towards the PA, which nicely softens off the edge. The lights are all facing forwards and the only thing that's slightly affected is the torms, which just means more work for Ben!"
The four overstage trusses were filled with Best Boy Spots and Washes, X4 Bar 20's, Sloaris Flares and molefays. On the floor, five 8ft towers housed more Best Boy Spots, while a back truss was dotted with 10 Sharpy Beams, Atomic Strobes, molefays and smoke machines.
Either side of the stage stood wheeled dollies containing more Mythos, X4's and Sharpy Washes. More Sharpys lined the downstage edge and an abundance of X4 S fixtures were hidden under the backline and drum kit risers. The entire setup ran on the grandMA Net and was controlled using Hornshaw and Mac's MA Lighting grandMA2 consoles.
Mac continued: "If you look from start of the US leg to where the show is now, it's certainly evolved and cleaned up. I didn't like timecode at first but now I think its awesome in the way that it lets you do things you couldn't normally do. I have implemented chases that run within other chases at a fraction of the bpm; they're like little stories that maybe even the audience won't notice but I think they look great!"
The LD explained that he was content with the fact that he could always override the timecode if need be, and the majority of fadeouts and so on were still handled manually to accommodate times when the band decided to play for a little longer. "We have 120 songs in the repertoire and 6,000 cues, which is a lot of stuff to remember," the LD laughed. "This is why the programming side of things is so important."
Hornshaw added: "With a lot of the show being taken care of by the timecode and Mac taking care of most of the starts and stops, it allows me to sit back and watching for potential problems. I can spend time in the upcoming or previous songs and help Mac with anything in the case of an emergency or sudden change. Also, because I'm not as busy as Mac, I'm better placed to keep an eye out for things like broken fixtures or possible improvements to the rig."
Mac also specified a variety of atmospherics including Smoke Factory Tour-Hazer II-SFs and Reel EFX DF-50 Diffusion Hazers in order to ensure that the gloomy mood of a number of tracks was fully realised.
Mac said: "I'm always on the quest for perfect smoke and haze – it's the hardest thing to do! Sometimes you want clumps, other times you want even haze or a low-lying mist. Unfortunately every venue has different air currents so there's not a lot you can do! To be fair most venues do tend to settle down throughout the night so I've been quite happy on this tour."
VIDEO
With a three-hour set becoming par for the course on this tour, The Cure's video team certainly had their work cut out when it came to collating, editing and creating the video content. Unsurprisingly, this is again an area that Smith enjoys getting stuck into, as Mac explained: "Most of the content is either sent to me by Robert or he asks me to help him find or create it. We then all sit around and work through it as a team.
"I set the intensity of the images as I want them to blast through the lights but not destroy the look completely. When we use IMAG content on the screen it almost becomes a lighting effect."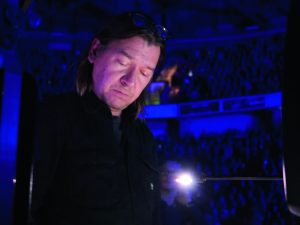 PRG XL Video supplied five portrait LED screens made from 200 tiles of ROE MC-7 in touring frames, as well as rear projection from two PT-DZ21K projectors and four Panasonic PT-DZ21K projectors rigged just behind the front truss that point down and provide some textural effects on the stage and backline risers. The crew also had 12 cameras dotted around the stage, most of which were PRG XL Video's own GNAT HDiye minicams and Panasonic HD AW-HE120 robocams mounted on mic stands, the drum kit and towers – and a pair of Sony HXC-100's.
Playback was driven by two Catalyst media servers, one for the LED wall content and one for the projectors, while Video Crew Chief Dan Large controlled everything from a Barco e2 4K Screen Management System. He explained: "I mix all of the cameras and content from the e2, cutting as I please as there are no manned cameras. One of the Sony units is only recording for Robert so he can review after the show."
This meant that the tour didn't require an out-and-out video designer, as Smith, Large and Mac could collaborate and discuss ideas throughout the process. Large continued: "I'm more of a video facilitator really. I assembled and edited around 50% of the content, a lot of which was stock or legacy footage. The oldest stuff was from 2008 so I just had to recut and rework it for the HD era, all under Robert's advice of course.
"Even a year in, we get frame references from him of when images should change and notes on how things can improve. One of the songs later in most sets, A Forest, has been reworked recently so that every transition is spot on."
Large and Hornshaw, both of whom had their own Ma Lighting grandMA2's at FOH, were able to work from the same showfile and, as a result, take over from each other if any problems arose. Stevie Marr, who looked after the LED walls on stage, and Luke Butler, who looked after everything projection-related, completed the video team.
Mac discussed the concept behind the video content: "A lot of it is about creating drama and the content, much like the lighting, usually relates closely to the song. For instance, the track The Last Day of Summer is focussed on a tree that starts in glorious colour and eventually fades to black and white. Colours are also an important anchor – the content for the song Primary uses, you guessed it, red, yellow and blue! Certain songs work better without content, which is when we'll play more with the camera feeds and use the video feedback effect."
The final word from Mac gave an overview of the past few months: "We've been away since May and we're all still speaking, so that's great! The company support from PRG has been really good as well – the crew are always on it when we have a problem."
AUDIO
Britannia Row Productions provided an exclusively L-Acoustics PA system for the tour, which was carried worldwide with the exception of the band's New Zealand and Australia shows. The typical loudspeaker arrangement for the autumn tour leg featured left and right main arrays of 14 K1 over 4 K2 down, plus hangs of 12 K1-SB low-frequency extension enclosures flown behind each K1/K2 array. Side hangs of 6 K1 over 12 K2 down addressed the far left and right seating sections, while dual arrays of 3 ARCS II covered the area upstage beyond the 180° sale line.
Four pairs of low-profile KARA enclosures were spread across the stage lip delivering front fill, with 8 ARCS II cabinets on each side of the deck serving as stereo outfills. A total of 24 KS28 ground-stacked subwoofers anchored the show's low end, while a combination of 60 LA8 and LA12X amplified controllers powered and processed the entire loudspeaker complement.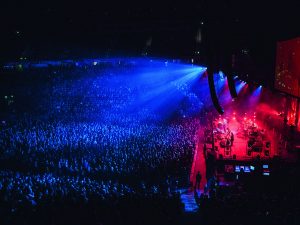 Systems Engineers Adam Smith and Colin Burrell were on site at Manchester Arena to talk TPi through the rig's configuration. Burrell began: "Flying the subs really increases the low frequency contour of the flown system and we've also paid attention to widening the coverage angle for the audience. The original design didn't include a dedicated rear hang but we've got the three ARCs up there to cover the shadow that isn't dealt with by the side hang."
Paul 'Corky' Corkett has served as touring FOH Engineer for The Cure for the last five years, having previously worked with the band in the studio – initially engineering before being asked to co-produce their eleventh studio album, Bloodflowers.
He explained: "I've been studio-based for the last 31 years but I do tend to split that half-and-half with touring these days. We are using an Avid Profile at FOH so that ties in nicely with the ProTools setup I use for recording. I've learned that you have to be a bit more subtractive with the EQ in a live situation as opposed to the way that you try to boost signals in the studio. If the system is tuned correctly then I generally have to do very little, and the team we have here is really reliable from that point of view."
Even from the rehearsal period, the desk has allowed the crew to record performances for Smith to review and find room for improvement. Corky continued: "It's a great way for him to give us notes on the audio side of things. He wants all the dynamics to come from the stage so we don't use any compression or gates. We use a tiny bit of compression but that's it – he wants to feel the band take off during the crescendos. The only plugin I'm using on the desk is one vocal delay and all the rest of the effects basically come off the stage.
"Robert listens to the three hours of playback every night, even after a year on tour. He also mixes the band's live recordings so he knows ProTools and the process of EQ'ing inside out. It's great to have someone who cares so much because it pushes you to step up your game."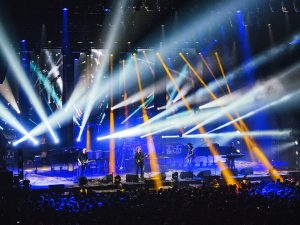 The nature of playing in cavernous arenas also allowed Corky to cut any reverb that he may have been inclined to add to some of his channels. This freedom from any overly synthetic elements went further still, as Corky elaborated: "Keith Uddin runs Logic for a couple of effects like reverse cymbals, which also drives the timecode for the FOH lighting team and the drummer. I'm free of all that and can be a bit more organic in the way I'm mixing as a result."
Smith said: "We have something of a Venn diagram going on here between us where we all respect each other's roles and can cover different areas when necessary. Colin and Corky tend to spend more time at FOH while we spend more time walking the room. This job definitely needs four of us on it! However challenging it is, the fact that it is often a three hour show definitely allows us more time to slowly shape things."
While this is a blessing for the crew in one way, the longevity of The Cure's set list also brings with it the risk of fatiguing both the crew's and the audience's ears. Corky explained: "During the support acts I usually walk around to get an idea of how the PA is working and how the crowd has changed the ambience – even the humidity of the room has an effect. We then tweak things as we go but never anything too drastic.
"It also helps that Robert knows how to write a set list! If it's getting a but much you can always expect the tempo to slow down or for slight changes in the instrumentation to alleviate this, such as switching in acoustic guitars or brushes on the drums. Those regular dynamic shifts, combined with the variety of the music itself, certainly stops you from getting complacent on such a long tour."
Thanks to a heavy use of Radial DI boxes, only the drum kit, other percussion and vocals necessitated the use of a microphone, which gave "great separation", according to Corky. "The signals are really clean as they come up to the board and can run them pretty hot. Robert uses Roland cubes that have a direct out option, whereas the other guitarist, Reeves, got used to Palmer Guitars mergers," he said. "The drum riser is quite high and, as a result, the kit is often going straight down the vocal microphone. I chose a DPA Microphones D:Facto II for Robert's vocal as it's really good for rejecting those unwanted sounds."
On the drums Corky chose a Shure SM57 for the top of the snare, AKG C414's as overheads, DPA 4011As on cymbals, and Sennheiser e902's on the toms. The kick drum was mic'd with a combination of a Shure Beta 91A and 52A.
Despite the ease of operation that came from the DI signals, the still impressive channel count prompted the crew to opt for a DiGiCo SD5 at monitors, as Burrell explained: "We were really stretched with the previous desk so we decided to go for the DiGiCo – you can do whatever you want with it, it sounds great and company support is always second to none."
LOGISTICS
Production Assistant Marie Gallop joined the crew around the end of April 2016 and has since spent a great deal of her time out on the road helping to make The Cure machine run as smoothly as possible on such a logistically daunting world tour.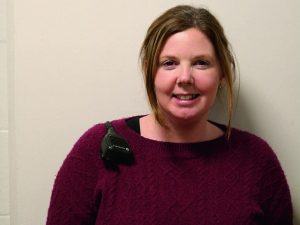 She began: "First of all it's a lovely team to be part of and that atmosphere always makes it easier for me to do my job. It also helps that Robert is just as involved with my duties on the tour as he is with the lighting or audio. At the back end of last year he was already sending me hotels and flights through that he knew would make the band happy – I've never experienced that level of assistance from an artist before!
"There's no management as such so he has that role and he likes to oversee everything across the whole production. He knows all of the band's likes and dislikes better than we ever could so he even deals with the travel agent directly on certain requests."
The decision was made to enlist Eat Your Hearts Out [EYHO] to provide catering for the European leg of the tour; an aspect plays a huge part in The Cure's life on the road. Gallop added: "The band are very hospitable and always have a welcome area for friends and family so they can all hang out together; this means there's a pretty substantial rider to look after. Every day something crops up but you always deal with it and we've had no catastrophes so far – EYHO know the score!"
Eight vehicles from Transam Trucking assisted The Cure in transporting its impressive production, while Phoenix Bussing took care of the band and crew. Gallop concluded: "It's been a great tour and the local production and promoters worldwide have said how much of an easy crew we are to accommodate. As well as Robert the praise for this should be for our Production Manager Phil Broad – it's quite often all down to him and his incredible rider. Locals always know exactly what to expect from us down to the smallest detail and he wouldn't have it any other way."
CUT HERE
As the arduous tour came to a close with three nights at The SSE Arena in Wembley, the fervent crowds never waned in their excitement to witness the return of their ever-impressive heroes. Corky saw this first hand: "They just love it, whether that's young kids who've just discovered the band or those who've been there since the beginning.
"They still come to FOH every night to thank us, which means a great deal to us as their hardcore fans know exactly how a The Cure song should sound! The shows have been really well-attended the world over and it's great to be able to do all of this with such a reliable and professional crew alongside you."
TPi
Photos:Andrew Benge