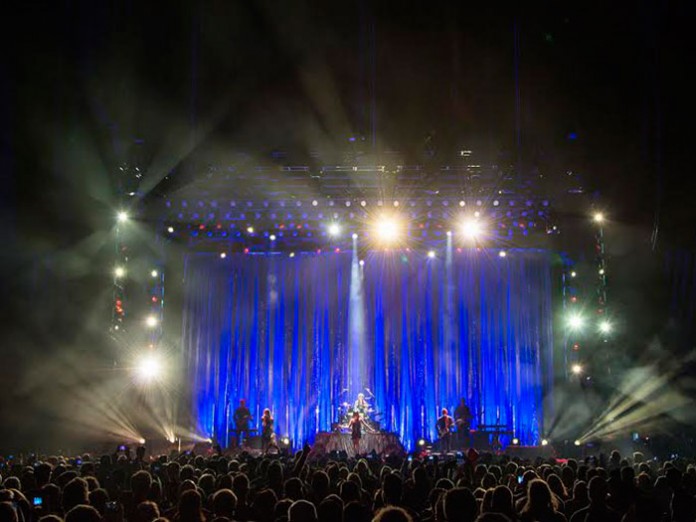 Following a long break from the live scene, The Corrs returned to touring in the UK with arena dates in January 2016. The tour supported the release of their latest album, White Light. For the tour, Henry McGroggan and Ian Calder contacted PRG XL Video to supply lighting and video, having worked with both teams separately in the past. Both worked with the band's new lighting and video designer, Steven Douglas, to satisfy his design brief.
Steven's design was a multi layer design which featured a shimmering semi-opaque metallic drape forming the backdrop to an array of Orbis-Fly LED spheres. These were used to great effect throughout the show – starting from a flown position above the stage, and then lowering to create a variety of multi-coloured effects including wave patterns.
"The brief from management was very simple, 'clean and theatrical'," said Steven Douglas. "The main objective was to enhance the performance rather than distract from it. I had looked at the Orbis Fly system before and was really interested in using it, and this seemed to be the perfect show to implement it. The Orbs were mainly used to shape the stage for different looks during the show."
Douglas continued: "Video was always going to be a big element but I wanted to be able to hide it when not needed, so I contacted Perry Scenic with an idea to find a fabric that would look solid when lit from the front but would be transparent when the video came from on behind. The metallic drape was the result."
Supplementing the Orbis-Fly spheres, PRG XL Video Account Director, Yvonne Donnelly Smith supplied a variety of lighting fixtures including the company's proprietary Bad Boy followspots, and Best Boy HP spots flown from the rig and in two columns on either side of the stage. The flown rig also included a mixture of Clay Paky Sharpy and A-leda K20 washes.
Douglas explained: "Lighting-wise, I went for a simple rig of three straight trusses along with four theatrical forms with a large amount of profile fixtures. Once PRG XL was confirmed as the tour vendor, I was happy to try out their Best Boy and was very pleased with their output and gobo selection. The zoom in particular was quite impressive.
"Having the Bad Boy followspots was a great help, allowing me to take over control of certain attributes of the fixture, and leave some things to the operator. Control wise I chose my preferred console the GrandMA2. I've used it for every tour I've done for the last five years and it does everything I need it to do."
For crowd highlights a row of high brightness Sceptron LED strips were arranged to the front of the main rig, throwing light across the arena audiences. Crew chief for lighting was Marc Callaghan, ably supported by experienced lighting technicians Russell Cobden, Martin Goulding, and Jack Gambino. On the video side, PRG XL Video Senior Account Manager Paul 'Macca' McCauley put together a package that included LED screen, IMAG projection and camera system. The large ROE MC 18mm LED screen was situated behind the metallic drape, shining through at various points during the show and giving an extra level of depth to the visual design.
"Content-wise we didn't want to use stock content," said Douglas, "but Jim Corr had discovered a photographer, Conor McEneaney from the band's home town of Dundalk, and we used quite a few of his images during the show along with some of my own photography. This was mixed with IMAG and some custom content created by myself and PRG XL's Stuart Merser."
Amongst the onstage risers a variety of Sceptron LED batons were rigged vertically. Steven Douglas selected these as they resembled fluorescent tubes – a reference to the band's album title 'White Light'. Both the screen and batons were mapped and fed content via two of PRG XL's Catalyst media servers that Steven Douglas controlled via the lighting desk.
For the IMAG, all the action was captured via three Sony HXC-100s in the pit, and two of PRG XL's proprietary HDiye minicams on stage for close-ups. Video Director, Stuart Merser, expertly cut the footage live using a Panasonic-based PPU, and the images were output to two large projection screens each fed by a pair of Barco HD20 projectors. In addition to Merser, the video crew for the tour included Ant Barrett and Tom Prew.