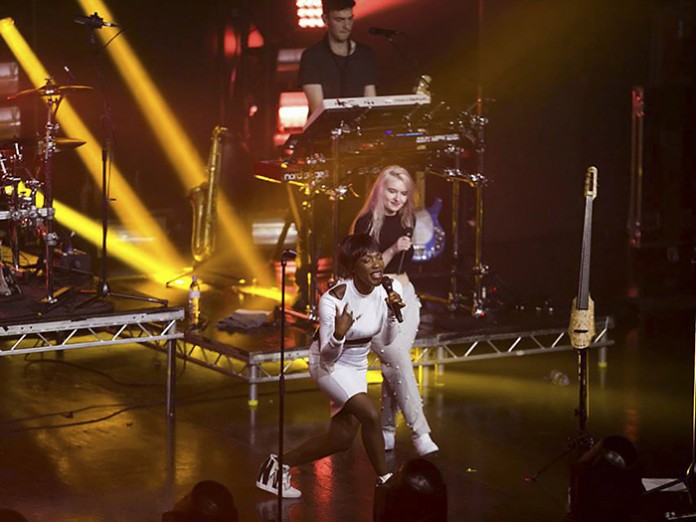 Paul Hatt has been working as Monitor Engineer for Clean Bandit since March 2015 and also runs a sound hire company, CS Audio, based in Wales. The band has been touring almost constantly since the start of 2015, so Hatt worked on many major festivals around Europe before heading to the US, the Far East and Australia for the final legs of the tour.
Hatt explained: "In Clean Bandit, just about everybody sings, and there are guest vocalists, too. This meant that the number of handheld vocal mics had to be significantly increased. We began with three and are now up to six, with all but two being DPA d:facto Vocal Microphones."
As well as d:facto Vocal Microphones, the band also use d:dictate 2011C Twin Cardioid Microphones in the drum setup, on the rides, hi hats and overheads, with d:vote 4099 Instrument Microphones on the top and bottom snares.
Clean Bandit switched to DPA microphones on Hatt's recommendation, soon after he started working with them.
"When I came on board I suggested they try DPA," he explained. "The FOH engineer had just played a show using d:facto Vocal Microphones and he said it was the best vocal sound the band had ever had out front." Hatt then ran an A/B comparison of the d:facto against several other vocal microphones and the result, he said, was convincing.
"The d:facto Vocal Microphones simply sounded the best. That's why we went with them, and they are working out really well," he said.
Clean Bandit can use up to 44 channels per show, with live drums, electronic drums, eight channels of backing tracks, multiple keyboard channels and sequencers, as well as a live cello, violin and six vocals. The band use custom-made in-ear mics that help keep on-stage clutter to a minimum, but even so they still have radio mics and packs to deal with, not to mention 20 channels of RF.
"A large proportion of time is spent simply finding free channels for the RF," Hatt explained. "It's pretty much taken care of at the larger festivals – we book them with Ofcom and work out a schedule, but every territory has different regulations, so there is always a lot to think about."
Hatt also focussed on ensuring the singers stay 'on mic' more. "The secret is to get the gain as low as possible, to minimise spill," he said. "Clean Bandit's lead singer is a really strong vocalist but with the others, I'll ride their channels as and when, muting them when they're not in use, to tidy up the mix and keep everything as clean as possible. The d:facto Vocal Microphone is particularly good for quiet singers because the rejection is good and they have a very smooth response. They also sound really nice."
When it comes to mic'ing instruments, especially drums, Hatt stated that correct positioning is just as important as having a good microphone.
"It's like having a good drum technician to tune a drum kit properly," he said. "You need a good microphone, which is why we use DPA, but you also need to make sure it is in the right place – that sweet spot on the instrument or drums. It's crucial to get your sound right at the source before amplifying it, so my advice is go back to basics and get it right."