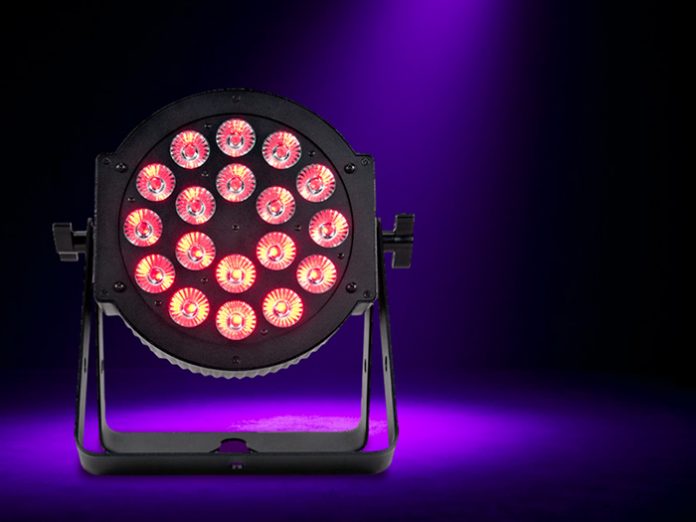 The new 18P Hex is ADJ's most potent LED-powered Par fixture to date, a professional grade unit designed for use in fixed installations as well as for one-off events and touring productions.
Utilising 18 12W Hex LEDs, the 18P Hex produces extremely vibrant and far-reaching colour washes, while it's robust construction makes it ideal for use on professional production projects.

Each of the unit's 18 LEDs incorporate red, green, blue, amber, white, and UV elements, allowing for an unbeatable level of colour mixing. Not only can the fixture be used to generate rich primary colours, it can also be used to provide warm amber or cool white washes. The inclusion of UV also means that the fixture can be used for dedicated UV wash effects or to generate UV-infused colours such as electric purple and hot pink.
While a vast palette of colours can be achieved by mixing various intensities of the six LED elements, to make selection of popular colours quick and easy, the unit is supplied pre-programmed with 63 colour macros. It also offers a choice of five different dimmer curves, each optimised for a different type of application: standard, stage, TV, architectural, and theatre.

With a 25-degree beam angle, the 18P Hex is equally suited to up-lighting as it is to providing stage or dancefloor illumination. It is provided, as standard, with a removable gel frame that can be used to add in a diffusion filter, in order to soften the light beam, or even a colour gel to achieve a very specific hue.
Designed to be a professional lighting tool, the 18P Hex has a heavy duty metal construction making it ready to withstand the rigours of the road. It is fitted with a robust scissor yoke which can be used as a hanging bracket or as a variable angle floor stand. The fixture also features ADJ's intelligently designed, patent-pending, power and DMX socket positioning. The input sockets are located on one side of the fixture, while the output sockets are on the other, making for easier and neater cable runs. The fixture is then fitted with rubber feet on its back panel to allow it to sit directly on the floor to allow vertical up-lighting to be easily achieved.
A four-digit LED screen on the rear of the unit, together with four selection push buttons, can be used to manually select any desired colour by individually choosing a dimmer setting for each of the six LED colour elements. Alternatively, the same interface can also be used to quickly select one of the unit's pre-programmed colour macros or internal chase programs.
For a simple synchronised lighting system, additional fixtures can be connected using XLR cables and set to Slave mode which will caused them to mimic the colour or pattern chosen on the initial fixture.
For simple wireless selection of the unit's colour macros and internal colour chasing patterns, the 18P Hex is compatible with ADJ's Dotz Par remote. This can be used to control the unit from a distance of up to 82 feet and is also capable of setting a defined chase speed and blacking out the fixture.

For full control over the fixture's colour mixing capabilities and other features, the 18P Hex offers four DMX channel modes. The basic 6-channel option simply provides independent dimming control for each of the LED base colours. The 7-channel mode then adds in master dimming, while the 8-channel option further adds variable speed strobing control. Finally, the full 12-channel option adds colour macro selection, remote access to the unit's pre-programmed chase patterns, and also selection of the unit's five different dimming curves.
A professional calibre fixture, the 18P Hex features locking powerCON sockets to prevent loose connections and accidental power disconnection. The inclusion of both input and output sockets for mains power also means that multiple units can be connected to the same power supply, reducing the number of cables needed, especially when lighting is required all around a room. Up to four fixtures can be connected from a single supply at 110V, while this number increases to eight at 230V.

Measuring 304 x 174 x 330mm, the 18P Hex is nicely compact, making it convenient to carry, store, and transport. It is also lightweight – at 5.9 kg – especially considering its substantial output power and solid build quality.
"Combining the advanced colour mixing potential of 6-in-1 hex LEDs with the shear brightness of 18 12W light sources in a single par unit makes for an extremely versatile professional lighting fixture," commented ADJ's USA National Sales Manager, Alfred Gonzales. "Add to this robust metal construction, locking powerCON mains input and output sockets, 63 colour macros, and a 25-degree beam angle, and the 18P Hex is ideal for a wide variety of applications where a large amount of light output and a wide colour palette are required. The 18P Hex rounds out ADJ's Hex Series Pars quite nicely as the largest and most powerful fixture in the series."

 he concluded.
The 18P Hex is available now from ADJ dealers and distributors worldwide.