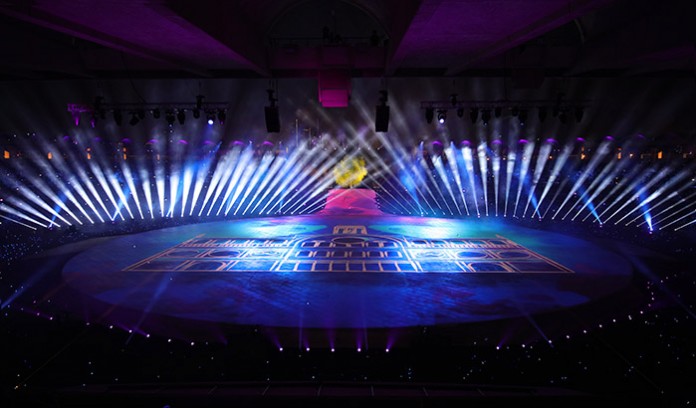 Home to the world's tallest building, the United Arab Emirates (UAE) is accustomed to doing things big. The extensive festivities marking the 44th UAE National Day were no exception. The official National Day event at Zayed Sports City in Abu Dhabi was a high-end production featuring grandMA2 consoles.
UAE National Day commemorated the Emirates' 44-year union with fireworks, concerts, heritage attractions, regattas, and art and theatre festivals across the Emirates. The official National Day show at Zayed Sports City celebrated the spirit of the union and the Emirates' national pride.
Produced by Five Current with lighting and video design by 4U2C, the show flashed back to the creation of the UAE by the region's seven kings. "The main challenge was the size of the stage – 300 feet wide," noted Karl Gaudreau, associate lighting designer at 4U2C, a Montreal-based one-stop shop that meets the creative and production needs of multimedia events. "We had to create a desert look through projection mapping with 100 video projectors. And we had to light the stage and the stadium."
To accomplish that 4U2C relied on 250 x Clay Paky Mythos fixtures, 155 x Clay Paky Sharpy Spot and 60 x Clay Paky Sharpy Wash. For lighting control, 4U2C had four active and two back up grandMA2 full-size on hand. A grandMA2 light acted as the stage desk with an MA onPC command wing as the tech desk; twelve MA NPU (Network Processing Unit) were deployed. "We worked with the four grandMA2 full-size consoles at the same time," explained Gaudreau. "With 102 DMX out, grandMA2 was really the best tool for us."
Gaudreau added that: "Alex Monas, our contact from A.C.T Lighting Canada, offered super support during the project." At 4U2C Yves Aucoin was visual director for light and video for the show, and Eric Belanger and Pierre St-Mars were the programmers. Tom Davis was the lighting project manager for Five Current. Solotech and Dushow were the rental providers with Richard Lachance.
A.C.T Lighting is the exclusive distributor of MA Lighting in the USA and Canada.