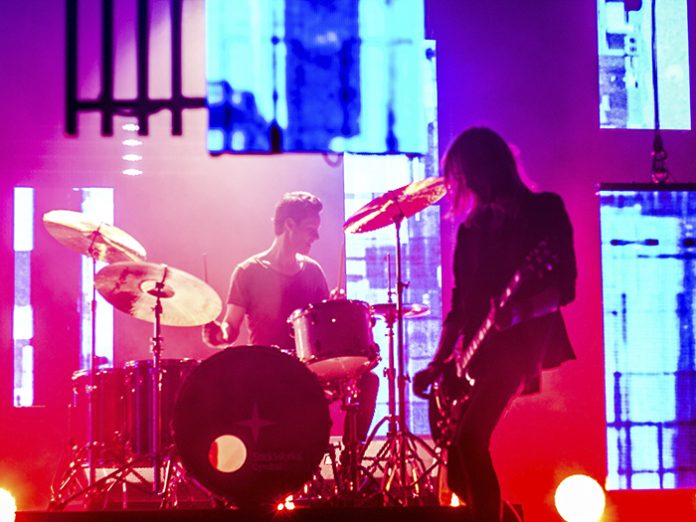 An array of creative video panels from Martin by Harman provide a visually dazzling backdrop for Danish rock band Superloader's video for the song City Light.
"Getting involved in this project was a welcome opportunity for us to demonstrate the new VDO Face 5 video panel's ability to integrate with the VDO Sceptron 20 and the MAC Quantum Wash fixtures to create dramatic scenarios for a music video," said Simon Allan, Harman Product Manager, Integration & Visuals. Allan acted as Visual Designer for the video.
Working off the song's titular theme, the design is based around the VDO Face 5 panels emulating building-like structures. Three planes create a sense of depth for the band members to walk between and various video content was used to create a high-impact, gritty feel. VDO Sceptron 20 units fitted with Lens Arrays were used to mimic the out-of-focus street lights and offer alternate light source sizes. Finally, MAC Quantum Wash fixtures and JEM Compact Hazer Pro units were used to create the feel of a burning, smoky cityscape.
Both the VDO Face 5 and VDO Sceptron 20 run on the P3 System Controller.
Three P3-150 System Controllers were deployed to match the three rows of video panels in the design. Each layer is a mix of VDO Face 5 panels and VDO Sceptrons.
"Besides running all fixtures as video products via the P3 controller units, we also had them set up on the M6 lighting controller as RGB DMX fixtures," commented Bjørn Stolt, Harman Senior Product Specialist. Stolt operated the creative video content on the production. "This gave us the maximum amount of flexibility in terms of control as it allowed us to adjust colours by pulling down DMX values from the M-Series console."