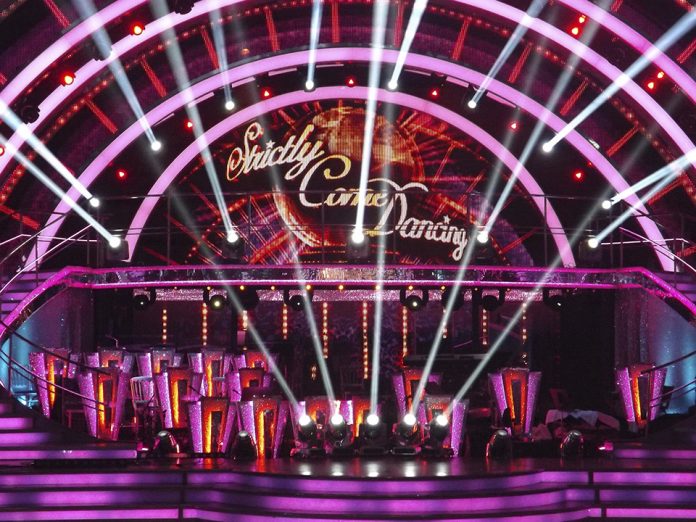 For the latest series of Strictly Come Dancing, the show's lighting designer was once again tasked with creating rejuvenated looks in the studio on a tight budget. To this end, Mark Kenyon added 80 Chauvet Professional COLORdash Accent Quad and eight Rogue R1 FX-B fixtures with spectacular results.
"For the latest series of Strictly, the challenge was to create a completely fresh look on set with barely any budget," commented Kenyon. "The introduction of the Chauvet Professional COLORdash Accent Quad and Rogue R1 FX-B fixtures allowed me to introduce entirely new spatial dimensions and looks to the set, and most importantly, within budget."
Adding to an already impressive roster of Chauvet Professional fixtures such as the Legend 412Z, Legend 230SR Beam, Q-Wash 560Z-LED and Rogue R1 Beam, Kenyon positioned the COLORdash Accent Quad fixtures intermittently under the balcony surrounding the dance floor area. The 80 10W RGBA fixtures were specifically chosen to add colour and depth to the entire area underneath the balcony.
"The COLORdash Accent Quad fixtures are excellent for delivering saturated colours and brilliant pastels with a soft, even glow," commented Kenyon. "I make use of purples, blues and deep reds within the show, which provide a supporting background palette for the Latin dance vibe."
Another deciding factor in Kenyon's specification of the COLORdash fixtures was their ultra compact palm-size design. As a result, Kenyon was able to install the entire selection of COLORdash Accent Quads not only quickly and effortlessly, but also without detracting from the classic ballroom-inspired set design.
Forming a key part of Kenyon's new lighting design, the Rogue R1 FX-B fixtures were positioned at the back of the stage behind the live band section. Thanks to a multitude of different pan and tilt effects and five pixel mappable 15W RGBW LEDs, the R1 FX-Bs awarded Kenyon with a cornucopia of looks to complement the dancers on stage.
"The crisp beams and lightning quick movements create amazing effects, which look stunning on camera behind the band," continued Kenyon. "The RGBW colours are also incredibly punchy and saturated, and when combined with the spinning movements of the fixture, seem to dance just as energetically and colourfully as the dancers on stage."
Thanks to the combination of the COLORdash Accent Quad and Rogue R1 FX-B fixtures, Strictly has been awarded with the kind of fresh and exciting visual input needed for the beginning of the 14th series. "I'm exceptionally pleased with the renewed energy in the programme's visual aesthetic," concluded Kenyon. "Thanks to Chauvet Professional, we've managed to prove that costly set redesigns aren't necessarily always the answer."