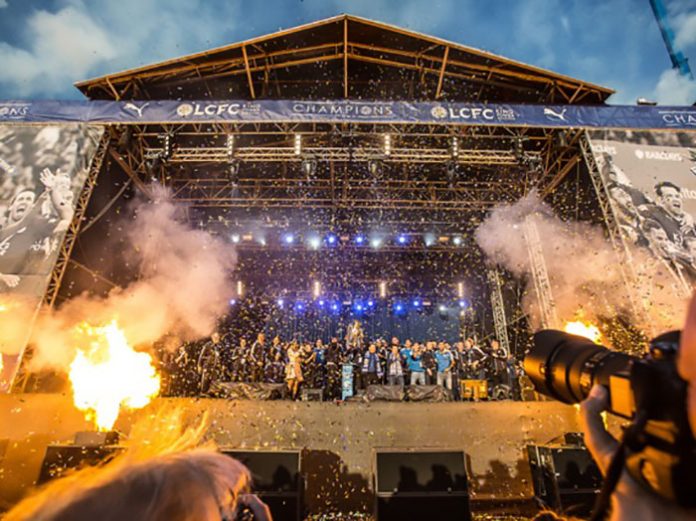 Star Events beat the clock to install a VerTech stage, an array of its new delay towers and other support structures as nearly quarter of million people celebrated Leicester City becoming the most unexpected champions in Premier League history.
"It's unbelievable. All the city is here," Manager Claudio Ranieri said from the stage in Victoria Park, where he was joined by the full Leicester squad ahead of a surprise set from hometown rockers Kasabian. The spontaneous nature of the event meant Star Events had just five days from order to plan, prep, load, transport and build the stage and the infrastructure for the band's production and Britannia Row's audio reinforcement. Pete Holdich, Head of Structures at Star Events, said: "The project quickly scaled up from a mobile stage to a VerTech and, in the spirit of the occasion, getting it across the line was a great team effort."
Site Manager, Terry Forryan, commented: "The weather conditions were very bad to start with and it was tough to pull an event of that scale together in such a tight timeframe. Star kit and crew were instrumental in making it happen. Victoria Park looked amazing and the atmosphere was unforgettable."
The Leicester City celebrations finished a three-contract weekend for Star Events. The company also provided for the Queen's 90th Birthday Celebration at Windsor Castle and the Admiral Insurance staff party at the Principality, formerly the Millennium, Stadium in Cardiff.