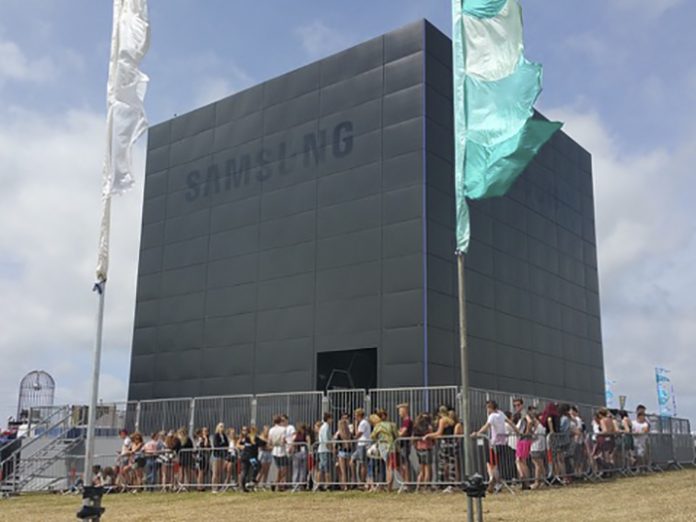 Star Events is behind Samsung's Hypercube, which houses the UK's first immersive virtual reality (VR) music video and has toured festival sites throughout the summer.
Inside the 50-capacity Hypercube, festivalgoers wearing Gear VR headsets are transported through pyros and laser lighting to join Scottish rockers Biffy Clyro performing new song Flammable in a suspended Perspex box.
Conceived by Samsung and developed by Iris Worldwide, the cube is built almost entirely out of standard Star Events' parts. It is clad in a new black version of the company's high-end VISTA panelling system, set off by grey surrounding walkways and handrails. Inside, a bespoke 'active' floor supports and identifies each user's VR equipment while hiding the technology in a void underneath.
Sarah Howlett, Star Events' Project Manager, said: "As the design of the cube grew we developed the idea of a walkway around it, enlarging the footprint to create a more stable structure. This really enhanced the look and significantly reduced the amount of kentledge required, making it a more efficient and tour friendly design."
A spokesperson for Iris Worldwide commented: "By collaborating with Star we have been able to design an impressive festival experience that is not only aesthetically beautiful but structurally sound and completely safe. The attention to detail, and skill, shown by Star Events is testament to its professionalism and approach."