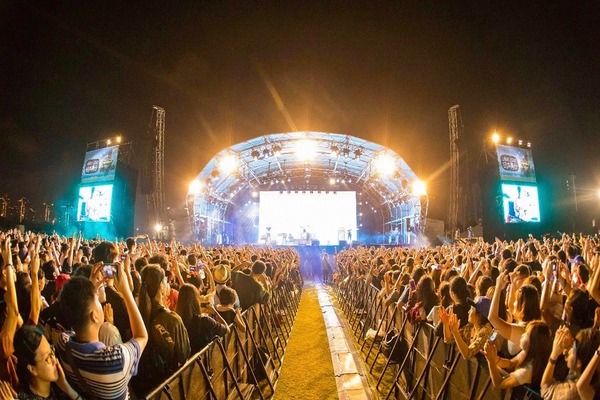 Star Events introduced a 22m Orbit and 2 V-towers to the Chinese market in September, providing the Main Stage and support structures at Concrete & Grass, a 2-day music festival in Shanghai, China.
The UK-based company has supplied the event, at Shanghai Rugby Club, for the last 3 years from its depot in the city and organiser Split Works moved the company to the Main Stage after its 17m Orbit roof, Stage 2, was the only performance space to withstand torrential rain in 2016.
Gavin Scott, Star Events' Special Projects Manager, used an 80-ton crane and a 6-man crew to build the bigger stage, a significant saving in time and resources compared to the local system it replaced.
Jo Xie, Operations Director at Star Events China, commented: "It is still very rare to see cranes building stages in China. Most are based on scaffold towers and are very labour intensive. The Orbit roof took about six hours, which was a great achievement for its first turn in the country."
Concrete & Grass coincided with Star Events' busiest week in China, supplying an arena project simultaneously while prepping a second job for the 22m Orbit, at Yangtze River International Music Festival in Zhenjiang, the following week.
Launched in 2015 as Echo Park festival and rebranded last year, Concrete & Glass 2017 featured 70 acts from around the world, including Thurston Moore, Princess Nokia, Toy and Gacharic Spin.