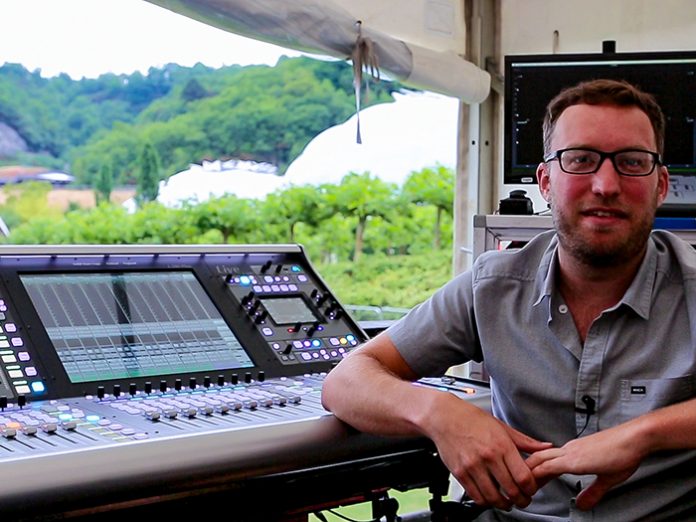 On the Queens of the Stone Age 2018 international tour, the Front of House Engineer responsible for making sure that every show lives up to the Californian rock band's legendary reputation is Jay Rigby, who has specified a Solid State Logic L500 console, supplied by Eighth Day Sound.
The most recent Queens of the Stone Age tour started last June with a Solid State Logic L500 console already specified. Rigby, and the monitor engineer Francois Pare, joined the tour in April this year, and Rigby decided to stick with the SSL console "I haven't looked back", he said. "I absolutely love it."
Choosing to start from scratch rather than try to adapt himself to the previous set-up, Rigby used multi-tracks from earlier shows to build a new show file. Rigby explained: "I was able to go into the Eighth Day Sound warehouse and prepare as much as possible.
"Interestingly, the first show I did with Queens of the Stone Age, and the first time I met the band, was headlining at a festival in Mexico, in front of 50,000 people."
It was at the first show that Rigby felt his choice was properly justified. The multitrack he had been using to prepare had been recorded through a different console, so Mexico was also the first time he heard the full and final signal path: "Even during the line check at that first show, it was like night and day going through the SSL preamps," he recalled. "For me, it's the first digital console I've used that sounds as good as an XL4. You push a fader up and it sounds like a kick drum… Then the meat of the guitar, drums, bass… It all sums together really nicely."
Rigby described the Queens of the Stone Age set up as a standard rock band, with drums, bass, three guitars (including lead vocalist Josh Homme), and keyboards. The drum kit does use some triggers, but there are absolutely no tracks, clicks or anything else that might limit the band's choices once on stage. "With these guys, you're hanging on by the seat of your pants," said Rigby. "You never know what's going to happen; you get the set list five minutes before the show starts, and that can change at any time during the show."
The biggest challenge of the tour might be the band's signature sound. The three guitars come together in what Rigby describes as a 'mid-range, gnarly sound' that in most contexts shouldn't work. "The first thing most people would do is start pulling that mid-range out and try to smooth it off," he said. "But the first thing Josh said to me was "embrace the mid-range and really get it out there.
"I am pushing and pulling the mix the entire time during a show, bringing it together into a crazy wall of sound. This console lends itself to that – I have everything at my fingertips."
Rigby makes extensive use of stem groups to help manage multiple kick and snare mics, as well as multiple amps per guitar rig. He brings feeds from instrument microphones together into their own premix, pre-processing stems – mics from guitarist Troy Van Leeuwen's three guitar amps into a single stem, or two snare drum mics into a single snare stem. These can then be routed into further stems – the snare stem into the drum stem, for example.
For Rigby, one of the most important aspects of that signal path is the All Pass Filter, included in every processed path of a Solid State Logic Live console: "Without the All Pass filter those stems would sound phasy and uncorrelated. Instead of trying fix that with delay or a polarity reverse, the All Pass Filter lets you dig in and get the stem to sound really wide, really solid – multiple amplifiers become one amplifier…"
Using Stem Groups for effects sends instead of traditional auxiliaries means that Rigby does not have to use FX returns and thus complicate his show layout; and using Stems for instrument groups means he has a ready broadcast feed whenever it is required: "For broadcast situations I can just send the broadcast truck six stereo Stems instead of giving them a whole 48-channel fan-out. That's really helpful."