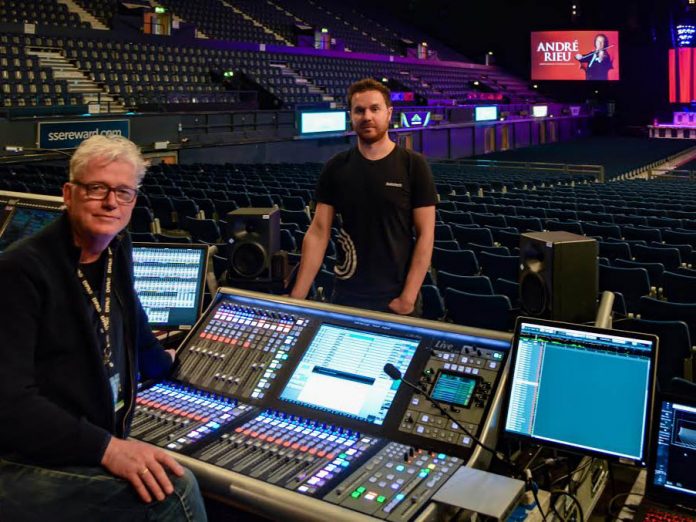 Once again FOH Engineer Wim Van Der Molen, who after 24 years is considered as part of the orchestra, utilised an SSL L500. Rieu himself told Van Der Molen early in their partnership that the mixing console was to be his instrument. The console, supplied supported on tour by Solotech, now mixes up to 128 inputs from stage for both the PA and monitors, from the FOH position. Also touring with the show is Solotech Project manager and Systems Tech Alexandre Dugas.
The SSL L500 is a step up in flexibility, power, and quality compared to their previous console. Solotech suggested he look at the SSL L500. "I met with Roland Mattijsen of AEM in The Netherlands," he said. "Who introduced us to the SSL team. Of course, we know SSL by name and by reputation, and we had long chat and a demo there. Later we visited the SSL HQ in Oxford, UK, with audio tracks from the show, and after that we moved on to running an L500 at some of our shows from an analogue split alongside our existing console."
"We had to put forward a good argument to the boss for replacing our existing console!" noteed Van Der Molen. "And we had to be convinced as well of course. The first time I mixed on the SSL I knew it was better; it was amazing. The result was even better than I had expected."
"It was great to be able to compare consoles in the same venue and at the same moment," added Dugas. "What we found immediately was that the SSL was wide and open – it made a huge difference."
The pair recall, they had to incorporate a six-man acapella group that sometimes joins Rieu on stage, along with their three Neumann U87 microphones. "We didn't have time to EQ these microphones before the start of the show," said Van Der Molen. "So there was barely anything on them – just a touch of high cut and low cut – so we were actually anticipating a problem. When it came to it we were ready to get to work, but it sounded fine. I didn't believe it! We used to use a graphic EQ and a lot of processing to get that group right – now we use almost nothing."
"And because of that," noted Dugas, "We have much more gain before feedback on those microphones than we had before. The difference that the SSL pre-amps make is huge."
The show travels with 128 preamps via a rack of SSL Stage boxes with SuperAnalogue inputs. The show does not always use all 128 inputs, but it does expand regularly for special events when the addition of a choir, various regular guests, and a larger orchestra bumps up the count. The console show file is set-up and ready for those expansions, so the team doesn't have to re-make anything.
While VCAs are available on the L500, the show does not use them. Instead it is organised with the unique Stem Group – a special audio group with flexible routing possibilities and the option of full processing. There are several string section stems, plus piano, keyboards, woodwind, brass, percussion, female choir, and male choir stems. Those, in turn, are routed to a single orchestra stem which is not included in the snapshot automation – a fine tuning resource that allows Van Der Molen to balance the whole orchestra against the singers and soloists. "Sometimes the orchestra can overplay the soloists and this makes it very easy to correct that without having to make lots of adjustments," he explains.
"We used VCAs on the old console," commented Dugas, "But the Stems are a much better way of doing it. You can EQ 16 violins by EQing the violin stem rather than going through them all individually.
Rieu himself has two lavalier microphones for his voice. The mutes and fader timing on these are an important performance aspect for Van Der Molen as a heavy violin stroke into an active vocal microphone can be an alarming experience for the audience. "André can take the violin off his shoulder and say something even when the orchestra is still playing," he said. "The timing has to be precise. It's probably because I've been working with him for so long that I can predict these movements and mix accordingly."
Rieu's vocals are not routed to the main mix, but are sent directly from the console as a separate input to the Meyer Sound Galileo system. "This means I can EQ it and send it to different fills and specific speakers," explained Dugas "It's just something that comes from experience in different venues and with varied systems. It seems to work best for us. They are omnidirectional lavaliers and they need a lot of control."
The eight monitor mixes for the show are all managed from the FOH console. They are not complex mixes, but as Dugas explained: "For a standard show we have at least 80 microphones on the stage and with a choir that can be more than 100. With all those microphones, a lot of complex monitor mixes would make a big mess!"
The main value of the monitor mixes is as direct feedback for the musicians from their own instruments. They are coping with big rock and roll venues without the solid foundation of coherent reflections that a more conventional classical venue or even an orchestra pit often provides. The front fills are mostly Rieu's violin, along with the soloists. As Van Der Molen noted: "André is the conductor, so when he is playing the violin, the orchestra must play off that lead."
This potentially complex show set-up is simplified considerably by the SSL approach of unrestricted, drag-and-drop bank and layer assignment to independent channel tiles, with simply managed colour-coding and the graphic Eyeconix labelling system. The Super-Query forward and reverse interrogation technology (the famous 'Q' button) means that any input or output is always just a single button push away.
And as any Conductor should be, André Rieu is directly involved with every aspect of the show, including the sound reinforcement. When it came to the final stamp of approval on the SSL, Van Der Molen recalls a playback of Ravel's Bolero to Rieu after one of the 'test' shows. "It's a piece of music big on dynamics," he said. "We played it back for Rieu and he was very impressed. All he said was 'Okay, it's all yours!"