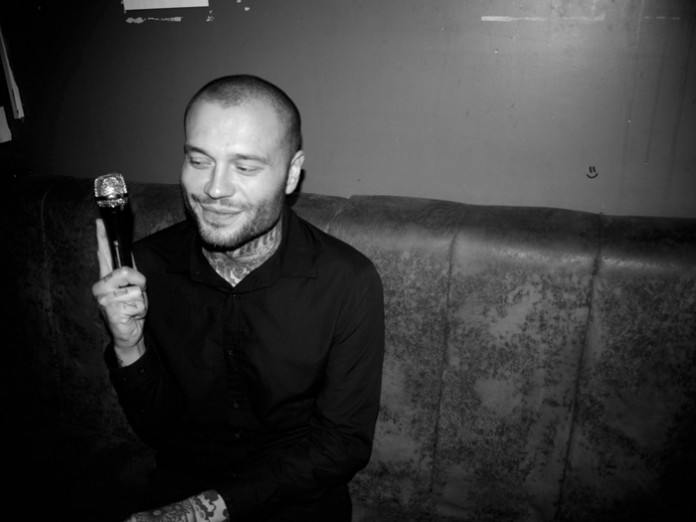 US post hardcore band Night Verses has been hurtling through the depths of North America and Europe's grittiest venues for the last couple of years, gaining momentum on the live circuit with punk and metal fans. On their last UK tour, TPi's Kelly Murray spoke to Night Verses front man, Douglas Robinson, about how the right microphone can truly change an artist's comfort zone on stage. Enter Sennheiser's e935 dynamic cardioid 'workhorse'…
"Sometimes bands think you have to be really 'nerdy' if to want to know about microphones, but I don't think so; I think of my microphone as my weapon!" Robinson told TPi in the attic of Manchester's Sound Control venue on the band's most recent UK tour supporting Feed The Rhino.
Having been a touring musician for over a decade, the singer now fronts Night Verses – which formed in 2012 – and it is with this band that Robinson has found a new vocal appreciation for Sennhieser's e935. "Sennheiser has made me realise what I want in a microphone… the e935 is killing it! There's a craft to keeping the artist feeling as comfortable as possible with their instrument and I truly believe the people at Sennheiser have mastered that craft with their incredible products," he said.
"My mics have custom chrome tops because I think they're able to take more of a beating than the matted ones. It's very robust and I sound 'crisper' using this model. I actually have quite a loud voice in general and previously my mics have often blown out or I'd get too much sweat in them and they'd break. That never happens with this mic."
Robinson was introduced to Sennheiser's products by fellow frontman Corey Brandan Putman of Norma Jean fame, a band also known for its onstage destruction and rib-rattling anthems. Putman put Robinson in touch with Brian 'Doc' Dougherty, Wireless, Broadcast and Aviation Product Specialist at Sennheiser Electronics in the US, and a smooth collaboration between artist and product soon followed. Said Dougherty: "My knowledge base needs to run from on-site technical support, large frequency set ups for TV broadcast, along with use of shotgun microphones and aviation headsets to sales statistics and manufacturing quantities. Through all of this I have the ability to work with bands, both big and small.
"No musician starts out as a super star and Sennheiser knows that. We strive to find artists that we believe in, and who believe in our equipment. This helps us build a long lasting relationship. Sennheiser has worked with artists such as Paramore since they were playing in bars! When we see talent in an artist, we want to cultivate it and educate them on Sennheiser equipment and the premium audio our products can deliver to support their career."
Why then, is the e935 the ideal choice for an artist such as Robinson? "The Sennheiser e935 is our workhorse microphone. It's a dynamic cardioid microphone with a robust build to the capsule and case. The majority of microphones you see are dynamic or condenser. To simplify this greatly, a condenser microphone needs an electrical current to work creating a more sensitive response, whereas the dynamic capsule is more robust but with less sensitivity. Cardioid is the pickup pattern, which allows a musician or FOH Engineer to know how that microphone will pick up sound. In Doug's case, his voice projects a lot of power and he uses a variety of melodic singing with aggressive, relentless energy. You'll see this capsule on stage with singers, rappers and metal artists."
As seen with many a global star, Sennheiser also offers customisation on its microphones (P!nk is a fan) yet the stage diving, sweat swishing rock bands are no exception. Continued Dougherty: "I know a number of bands where laser etching on microphones seems to be in their thoughts. With the laser etching machine in my office I've made microphones for Bring Me The Horizon, Mastodon, Every Time I Die, Iwrestledabearonce, Norma Jean and many more. Doug had seen some of the designs I was doing via Instagram and said 'I have the sound I want out of Sennheiser, now I want to update the look!' so I'm now working on getting the Night Verses logo etched onto his mics."
"This has been the sickest microphone I've ever used!" concluded Robinson. "I'm so impressed with Sennhesier's stuff that we're definitely going to crossover and use their gear in the studio to record our next release too."
The band's debut album Lift Your Existence is out now on Southworld Records in the UK.
TPi
Photo: Kelly Murray