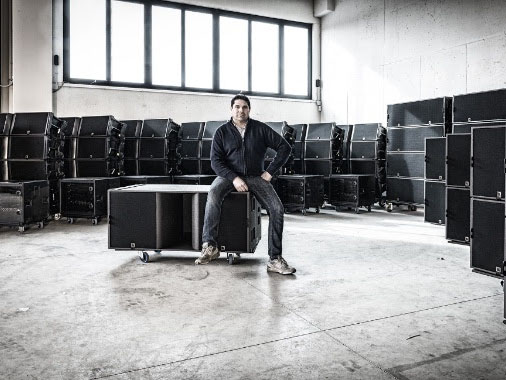 Italian dry hire company, Soundbag, has recently taken delivery of a substantial K-Standard L-Acoustics K2 system, adding to its existing stock of ARCS WiFo.
Owned by Francesco Trentin and formed in June last year, Soundbag is a subsidiary of Business Made Srl, which made the original L-Acoustics investment. The new company offers a dry hire service for professional audio and lighting products for the entertainment markets, including concert touring, theatres, conventions, sport events and temporary installations.
"We started Soundbag because we saw a real need for a dry hire solution in the Italian market and we wanted to have a facility that is completely focused on audio," said Trentin. "We knew that we would need to offer the very best audio solutions and, as far as we are concerned, that is L-Acoustics. We had purchased an ARCS WiFo system two years ago for Business Made and it has worked extremely well for us, so when the opportunity to make a further investment in K2 arose, we were certain it was the right addition to our inventory."
As Soundbag provides a dedicated dry hire solution, the company needed a system that is substantial enough to support big events, but that can also be reduced in size for those companies that require smaller systems.
"Before we made our final decision, we met with L-Acoustics' Tim McCall, who explained the advantages and business potential we could develop with K2 on an international basis," Trentin continued. "We purchased the system with the valuable assistance of SISME – L-Acoustics distributor for Italy – who also oversaw the system training for our engineers."
Soundbag's K-Standard K2 system comprises 36 K2, 24 KS28, 12 K1SB, eight LA-RAK II, 24 LA12X amplifiers, plus associated rigging, accessories and cables.
"Since the financial crisis, funding and finance for rental companies in Italy has proven difficult," commented McCall. "But there is a very strong demand for high quality, flexible and industry-standard equipment in the market. With Soundbag, our growing Italian network can now supplement its existing L-Acoustics systems with the latest standard of K2 system, which benefits from the incredible low frequency performance of the KS28 sub and the flexibility of the LA-RAKII.
"L-Acoustics system training is now also available in Italy (and Italian) through SISME, so that engineers and rental companies can ensure they have the requisite knowledge and skills to get the best from this and all our systems."
Since its acquisition, Soundbag has seen a good uptake for its K2 system.
"We are very happy with our purchase on both the technical and commercial sides," Trentin concluded. "K2 is the best system in the world and being able to supply it gives us a real edge both in Italy and further afield."