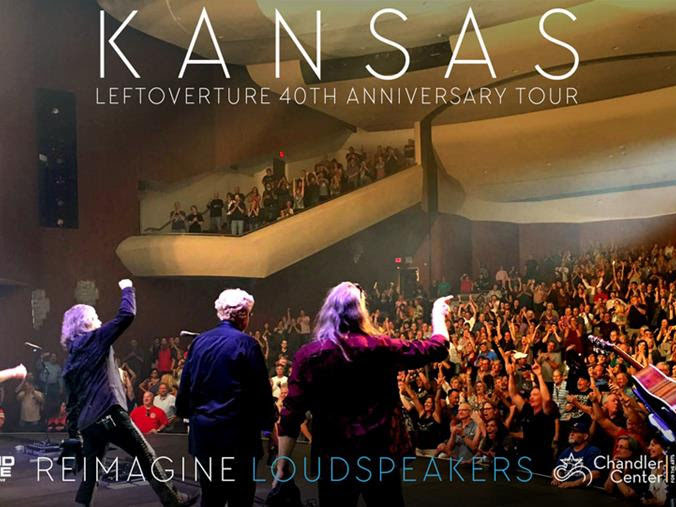 Kansas has a crowded touring schedule for 2017, with back-to-back dates through year-end in celebration of their four decades together. Recently the Leftovature 40th Anniversary Tour landed at the Chandler Centre for the Arts, just outside of Phoenix Arizona, where the band's long-time FOH engineer, Chad Singer, took his first spin behind the wheel of a VUE al-Class line array.
The Sound Image-supplied system took full advantage of VUE's Continuous Source Topology (CST), which allows different VUE al-Class array elements to be seamlessly combined for optimal coverage and reduced weight without the disruptions associated with more conventional mixed element arrays. For the Arizona stop, left and right CST clusters included eight, large-format al-12 boxes above two medium format al-8 boxes providing 'downfill'. A total of 19 VUEDrive systems engines delivered power and processing for the arrays, while the sophisticated on-board DSP ensured an easy setup.
"This is the first PA that hasn't required any adjustment at the high end," commented Chad Singer, Production Manager and Front of House Engineer for Kansas. "I generally have to pull back the 3.5-4k range, but that simply wasn't necessary with the VUE system. Maybe it's the beryllium, but this was easily one of the most transparent and efficient systems I've used. Even when I leaned into it, the delivery remained totally consistent and smooth. I'm really impressed."
Dean Hannula, who has served as the Chandler Centre's Sr. Production coordinator since 1997, had been eager to hear the flagship VUE al-12 since first auditioning the medium-format al-8 array with Tower of Power in 2016.
"It's a stellar-sounding rig" Hannula remarked. "I've had all types of touring rigs in the hall; but there's something about the Vue Line Arrays. The beryllium drivers sound very smooth and transparent as you walk from left to right. I love the way that the al-12's sound so even and balanced no matter if at lower volumes or at higher SPL's."
For low frequency support, Sound Image matched the array with 12 VUE hs-28 dual 18-inch ACM subwoofers spanning the front of the stage in six stacks of two front-firing cabinets each. Atop each stack, a single al-4 subcompact line array element provided additional front fill while maintaining absolute sonic consistency with the CST hybrid arrays hanging above.
"The VUE subs were just fantastic, with tons of output for their size," concluded Hannula. "They are really the perfect match for the line array – tight, punchy and plenty of horsepower when you lean in. In all, the whole system – from the combo arrays to the subs – was easy and incredibly capable."