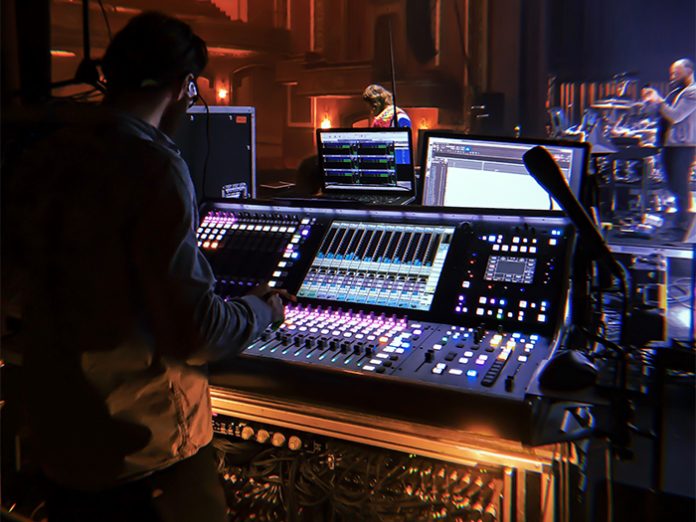 For The War on Drugs 2018 Tour Monitor Engineer Laurence Eaves and Front of House Engineer, Bob Strakele both chose Solid State Logic L500 Plus consoles, supplied by touring and systems integration company LMG.
From the inception of the tour, the intention was always to go big and make sure the band's full potential was realised. "For this tour, we decided to shoot for the stars and go with what we really wanted," said Eaves. "As soon as we'd heard and messed around with a couple of SSLs, we were never going to look back… It went from smashing a nail in with a brick, to surgical precision in with a laser-sighted nail gun!
"It has enabled me to do live what I loved doing in the studio, which is to craft something that is technically great, sounds amazing, and has lots of energy."
Eaves creates 12 in-ear mixes for each show – 6 for the band plus another 4 tech mixes. He also has a range of reinforcement around the stage, though nothing like the truckload of wedges that used to compete for level.
"There are some side fills and wedges dotted around because we still want movement on stage… I've also been experimenting with giving David Hartley (bass) a wedge or a sub because he wants to feel a bit more connected to his amp… And Robbie, our keyboard player, has a wedge sitting on the corner of his riser with all the highs rolled off to give him a bit of vibration."
Eaves also positions boxes at either side of the stage for anybody watching from the wings: "If Adam is jamming away on stage, and looks around, he wants to see people who are into it, and they can feel like they're at a real gig, rather than just watching some really loud drums and amps.
Eaves makes extensive use of the SSL Live console's Stem groups to build mixes with plenty of parallel compression options and to create hierarchical structures to the mix. Stems are full processing paths that you can mix to like an aux, but which can be routed anywhere, including to another Stem group.
"For example, for each person, I basically have 2 drum mixes," he explained. "There' a completely clean one and a completely smashed one. You can then blend those… depending on what's happening on stage."
Eaves said he mixes monitors to actively enhance the band's performances, not simply to balance. A Stem-based architecture gives him valuable control to help the musicians play along with the room and react more naturally to each other – something that requires a long-standing relationship with the band and fluent knowledge of the material. He can move the dynamics and feel of a performance and anticipate what's required.
An additional challenge is the amount of information the band can produce at any one time. Frontman Adam Granduciel can have up to 6 guitar amps on stage just for him, and the keyboard set-up has both width and depth to it.
Eaves commented: "Robbie Bennett, the keyboard player, is using one of those Dave Smith Prophets, a Nord, and a couple of other vintage synths… I think if I was using any other console some of those outputs would just collapse a mix, but again by using multibands, and a bus with all Robbie's keyboards going into it, I can parallel compress the whole of Keyboard world as one.
"It's all about having the best tool to gather those amazing sounds and wrangle them together so they are the most musical they can be, so the guys on stage can play with each other rather than against each other."