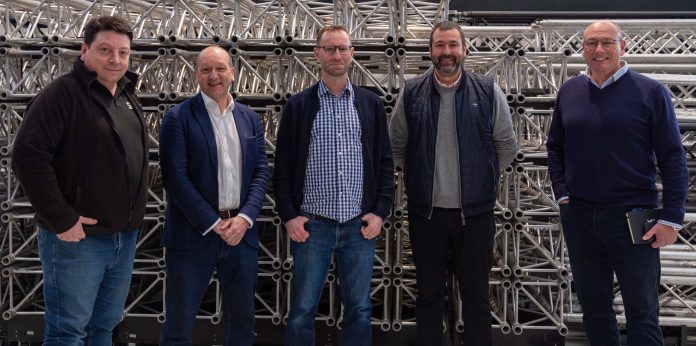 SLX has invested in a stock of Ayrton lighting fixtures as part of its new focus on environmental sustainability.
The fixtures, which include Ayrton Diablo, Mistral, Eurus, Perseo, Karif and Cobra, were supplied by Ayrton's exclusive distributor for the UK, Ambersphere Solutions.
SLX used the hiatus of the pandemic to reassess and reset its aims, choosing to focus on environmental and social sustainability, as CEO Alastair Currie explained: "We examined how we operate within a circular economy, what we expect from our manufacturers and suppliers in terms of sustainability, and aim to give opportunities for minority and disadvantaged groups to work within the industry. We set out our goals leading up to 2030, running alongside the Bristol Sustainability Agenda, before relaunching as a new brand with a new focus in 2021. Part of this reassessment included updating our stock in accordance with the lines we had laid down, and we found Ayrton sat very well with where we saw ourselves, both in their product range and their clear road map for the future. They have a wonderful range of equipment which we have now invested in heavily and will continue to invest in further."
Russell Payne, MD at SLX, explained: "Our assessment showed we stocked too many lighting fixtures within similar 'groups' from different manufacturers, which had a costly and inconvenient knock-on effect in spare parts, stock levels and maintenance. Also, the improvement in the quality of LEDs has made the transition from traditional to LED sources a much more viable option. We decided, therefore, to streamline this by investing in one fixture for each 'group', and found Ayrton's range covered all the bases. Their fixture Series' are designed to cover every throw distance and application and can fit into all our markets: film, television, theatre, live events."
"One of their great strengths is that their IP-rated fixtures are identical in terms of features – and with no loss of output – to their non-IP rated fixtures, meaning we are able to mix IP and non-IP fixtures easily. That's invaluable to a rental house. With moving lights replacing generic profiles we no longer need to work at heights which is especially valuable for sporting events, especially when rigging over swimming pools," Payne confirmed.
Payne and the team commented: "A look inside an Ayrton fixture shows they are so well made. The result is we are not seeing them in our workshops for repair and maintenance, which means we can keep the equipment available and it is not costing us anything in lost revenue on the repair bench or on the shelf."
To date, SLX has invested in substantial quantities of Ayrton Diablo, Mistral, Eurus, Perseo, Karif and Cobra and intends to purchase more in future.
Projects using SLX's stock of Ayrton fixtures include some long-term hire of Diablo and Eurus to the flagship venue, the London Palladium; the hit television programme, The Great British Bake which SLX has worked with since its inception, and the 2023 Commonwealth Games.
SLX has recently become a B Corp accredited company which Currie states and became the recipient of the first-ever Green Award from TPI in February 2022.
"It was very gratifying to be recognised by our industry peers for something that is so central to our core tenets," explained Currie. "We focus a lot of time and energy into these aspects, and in every relationship we start with a new supplier we look into their full supply chain and how it fits with our ethos. Ayrton has worked hard at improving its environmental impact and is very transparent about its progress and its aims. This is a whole new offering for our clients whom we find often request impact audits and it is an area where SLX and Ayrton are very much aligned."
"It was clear to me that Chris Ferrante, Ayrton CEO, has a very clear vision of where the company is going and is well on the way with the 5-10 year plan they had set in motion. It was very easy to see how our own vision aligned with this plan, not only the inspiration of the road map, but the quality of the product, the passion behind the inventor Yvan, and the whole energy behind the Ayrton business which matched really well with what we are trying to achieve. As a result, the choice of Ayrton became a no-brainer. I feel very comfortable knowing they are producing items to such a standard. It is a real wake up call to the rest of the industry just how professional and well-organised they are. The R&D that has gone into the products and the way they have come out with an incredibly successful range of quality products at a price point that is acceptable to a rental house is inspirational and a real strength in what Ayrton has to offer."
"Put this in tandem with Ambersphere and you have a winning formula," concluded Payne. "Ambersphere is a great company which carries a few select product lines of excellent quality and work with a few manufacturers. They know their kit and know what to recommend to meet your requirements. This sits nicely with how we like to operate."